The preliminary results for the 2020 Primary election are in. Congratulations to all the candidates that have advanced to the upcoming November 3rd General Election! OF NOTE: Skagit County still has about 3,900 ballots to count. This year the statewide primary election had a record turnout of about 54% and several counties had over 60%. This is the highest primary election voter turnout in 60 years. 
Here is a listing of the top 2 finalists (for all the election results click here and here).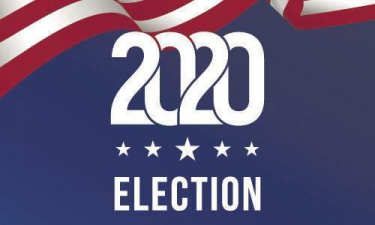 GOVERNOR:
(R) Loren Culp 17.32%
(D) Jay Inslee 50.23%
ATTORNEY GENERAL: 
(R) Matt Larkin 23.54%
(D) Bob Ferguson 55.85%
SECRETARY OF STATE:
(R) Kim Wyman 50.88%
(D) Gael Tarleton 43.32%

TREASURER:
(R) Dwane Davidson 46.63%
(D) Mike Pellicciotti 53.26%
AUDITOR:
(R) Chris Leyba 41.02%
(D) Patrice McCarthy 47.46%
OFFICE OF THE SUPERINTENDENT OF PUBLIC INSTRUCTION:
(R) Maia Espinoza 25.25%
(D) Chris Reykdal 40.28%
COMMISSIONER OF PUBLIC LANDS:
(R) Sue Kuehl Pederson 23.38%
(D) Hilary Franz 51.19%
LIEUTENANT GOVERNOR:
(D) Marko Liias 18.53%
(D) Denny Heck 25.05%
U.S. CONGRESS (CD 1):
(R) Jeff Beeler 32.12%
(D) Suanne Del Bene 55.42%
U.S. CONGRESS (CD 2):
(R) Tim Hazelo 14.92
(D) Rick Larson 48.57
LD 10 STATE SENATOR:
(R) Ron Muzzall 50.79%
(D) Helen Price Johnson 49.09%
LD 10 STATE HOUSE (POS 1):
(R) Greg Gilday 46.30%
(D) Angie Homela 26.27%
LD 10 STATE HOUSE (POS 2):
(R) Bill Bruch 48.72%
(D) Dave Paul 47.03%
LD 39 STATE SENATE:
(R) Keith Wagoner 66.91%
(D) Kathryn A. Lewandowsky 32.85%

LD 39 STATE HOUSE (POS 1):
(R) Robert Sutherland 61.33%
(D) Claus Joens 38.52%
LD 39 STATE HOUSE (POS 2):
(R) Carolyn Eslick 49.10%
(D) Ryan Johnson 35.62%
LD 40 STATE SENATE:
(R) Charles Carrell 30.06%
(D) Liz Lovelett 69.84%
LD 40 STATE HOUSE (POS 1):
(D) Debra Lekanoff 95.31%
LD 40 STATE HOUSE (POS 2):
(R) Russ Dzialo 30.81%
(D) Alex Ramel 68.98%
SKAGIT COUNTY COMMISSIONER (Dist 1):
(R) Ron Wesen 45.67%
(D) Mark Lundsten 48.69%
SKAGIT COUNTY COMMISSIONER (Dist 2): 
(No Preference) Peter Browning 41.43%
(D) Mary Hudson 30.50%
SKAGIT COUNTY SUPERIOR COURT
Tom Seguine 45.64%
Elizabeth Yost Neidzwski 27.82%
SKAGIT COUNTY PUD
Kenneth Goodwin 25.91%
Andrew Miller 26.32%
OF NOTE: There will be a Republican write-in-candidate in the Lieutenant Governor race. However because of a terrible state law referred to as "The Sore Loser Law" which says that no candidate that was on the ballot in the Primary can be a write-in-candidate for the same race in the General Election; it eliminates several of the contenders. Both Susan Hutchison (former WSRP Chair and State Senate Candidate ) and Joshua Freed (Governor Candidate) are two strong potentials.
EARLIER TIME -- OPEN AIR EVENT! The 2020 Skagit County Republican Party Lincoln / Reagan Day Gala Protest is set for 4 pm to 7:30 pm on Saturday, August 29th at the Corporate Air Center in Burlington, I5452 Airport Drive (MAP). The event will have a delicious catered dinner, feature live music with Superstar Country Singer Sarah Winchester, Republican 2020 Candidates Including: Treasurer Duane Davidson, Attorney General Matt Larkin, Office of the Superintendent of Public Instruction Maia Espinoza, State Auditor Chris Leyba, and others; SPECIAL GUEST SPEAKER LOREN CULP, our World Famous Dessert Dash and more surprises!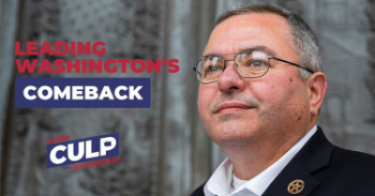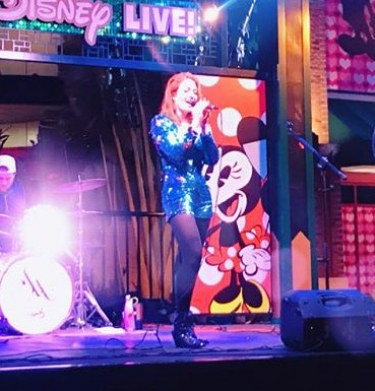 RSVP prices are $70 per person and $130 per couple. Students and ages 20 and under $50 per person. 'Herd Immunity' Table of 6 Special $360. VIP $100 per person -- Includes preferred seating and special 3:30 pm VIP Reception with Lauren Culp and early live music by Sarah Winchester. Corporate VIP Tables of 6 are $2,000 -- Includes Corporate Advertising, Preferred Seating and 3:30 pm VIP Reception with Lauren Culp and early live music by Sarah Winchester.
THIS IS A PRIVATE EVENT -- SEATING IS LIMITED AND REQUIRES RSVP HERE or call (360) 757-1338. PLEASE ARRIVE EARLY TO AVOID LINES (DOORS OPEN AT 3 PM). Temperature checks required. Masks provided.
The WA State Employment Security Department (ESD) is withholding information for an audit as Republican legislators are being stonewalled for a Freedom of Information request. Last week ESD Commissioner Suzi Levine reported that $576 million in state and federal unemployment benefits had been paid out to fraudsters in Nigeria. LeVine also reported that, as of July 25th, 30,152 workers who had their benefit payments suspended by the ESD were still waiting for the agency to resolve their claims. 
However Republican lawmakers want documented proof and believe these numbers are low as they are being told they will have to wait until the end of the year to get FOIA / email records, etc. (how convenient after the election, because of Covid? Hmm....). It is believed that there were over 87,000 bogus unemployment claims. In some cases, legitimate workers had received only a few payments, and some have left been waiting weeks or even months for ESD to resolve the claims.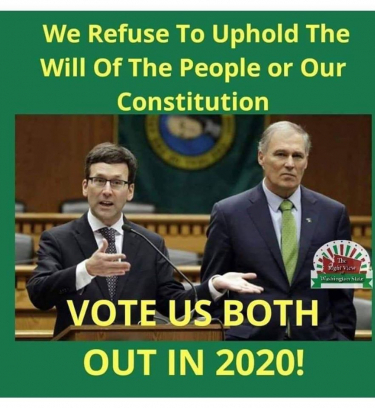 There is a New International Citizens Initiative Investigation into Covid-19 by hundreds of world renowned experts in the fields of medicine, economists, government, public institutions, business and law. The Covid-19 Extra Parliamentary Inquiry Committee and movement is being lead by Doctor Heiko Schoning of Hamburg Germany. The experts have evidence and all believe the official Covid-19 story is fake story all over the world and have serious doubts about the way the terrible draconian measures were placed onto society saying: "It is more than grossly negligent as government agencies are not exposing these things and indeed it seems they are staging them as the scientific data already shows there is no basis for these measures."  The group also has discussion and asks the questions: Why is it happening? And Who benefits from it? Website: ACU2020.0rg. Video here and here.
SCIENTISTS in the Netherlands have said face masks in public places are "not necessary" and might even have a "negative impact." The nation's top scientists have concluded there is NO firm evidence to make people wear masks.
Coen Berends, spokesman for the National Institute for Public Health and the Environment, added: "Face masks in public places are not necessary, based on all the current evidence. There is no benefit and there may even be negative impact."
Holland's position is based on assessments by the Outbreak Management Team, a group of experts advising the government. It first ruled against masks in May and has re-evaluated the evidence several times. More here.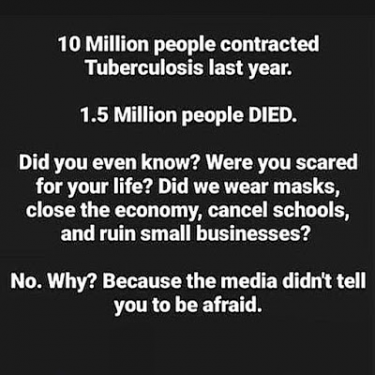 There is disturbing trend across the nation using Covid for a radical Left power grab to further an extreme agenda, including ordering Christian and Private schools to shut down regardless of the steps they take to ensure the safety of teachers and students. In Oregon Gov Kate Brown shut down all Charter Schools and said they can't even have virtual / online Charter Schools.
Left-leaning officials and teachers unions are demanding that the government mandate schools to remain closed due to Covid, threatening to strike and refuse to even provide online distance learning options. This is happening even despite the CDC and Fauci saying schools should reopen and kids should be back in the classroom.
Right now kids and parents across the country should be preparing for school to resume, and in many states classes have already begun. But in Democrat controlled states like ours many schools remain closed. Because of the insanity the ACLJ (American Center for Law & Justice) has filed dozens of lawsuits agaist many of the Democrat controlled states. Also the ACLJ is offering to represent parents in lawsuits who want their children to go back to school. Info here.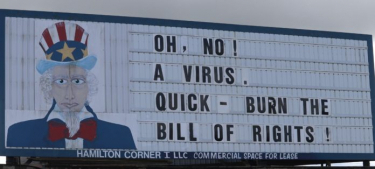 Several Puget Sound families filed a lawsuit against the Washington State Board of Education and the Office of the Superintendent of Public Instruction Tuesday, challenging rules from those agencies in response to the coronavirus pandemic.
The petition for judicial review filed in Thurston County Superior Court said, "In response to the Covid-19 pandemic, the Washington State Board of Education and Office of the Superintendent of Public Instruction adopted emergency rules that strip away the basic education constitutionally required for every student. Petitioners seek to restore access to a basic education for children whose learning needs cannot be met remotely."
 "The rule changes the definition of 'instructional hours' for the entire 2020-21 school year although, by statute, an emergency rule may not last more than 120 days."
The rule also said days where instructional hours are offered count toward the requirement for 180 school days.
"The OSPI rule interfered with and impaired the rights of petitioners' children to receive a basic education in the spring," the lawsuit said. "The board rule poses an immediate threat to their basic education rights in the fall."
A great option for parents is to take their children out of public schools and enroll them into Private, Charter, and Christian schools that are offering better educational choices.
Home School Legal Defense Association HSLDA is a non-profit advocacy organization that makes homeschooling possible by protecting homeschooling families and equipping them to provide the best educational experience for their children.
To learn more about HSLDA and to receive specific advice about withdrawing your child from school and starting to homeschool click here. Also there is a Fidalgo Island Schoolers Homeschool (FISH) group available in the Anacortes area, for more info call (360) 630-4367 and / or see blog here. And Classical Conversations is another great Christian Home School alternative, info here.
PLEASE DO YOUR RESEARCH AND BEGIN NOW AS HOMESCHOOLING IS BECOMING A VERY POPULAR OPTION FOR FAMILIES!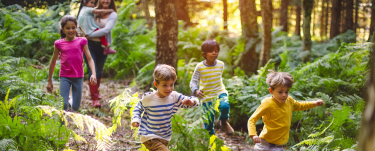 Some private schools in Skagit County say they intend to hold in-person classes despite Governor Jay Inslee's recommendations for all schools to begin the year online.
Students at Skagit Adventist Academy in Burlington will head back to the classroom soon as will those at Mount Vernon Christian School and Immaculate Conception Regional School in Mount Vernon.
Skagit County Health Officer Howard Liebrand agrees with Inslee but says schools that have the resources and ability to safely reopen should do so.
Lynden Christian Schools also has plans to welcome students back to campus in the fall.
AS A REMINDER: In the spring, Virginia's Liberty University brought students back to campus in defiance of the national media outcry that claimed the school was putting students lives at risk. It turned out that there were no issues as none of the Liberty University students ultimately contracted the Covid virus?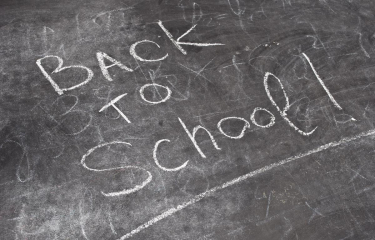 Renowned scientist, Judy Mikovits PHD is one many coming forward to expose Anthony Fauchi. Of no surprise YouTube and Facebook removed this amazing documentary video, the video gives additional evidence that Fauci may have helped orchestrate much of the Covid-19 pandemic response. See video here.
Carmen Best, the Seattle police chief, emailed her resignation notice late Monday, hours after the Seattle City Council made good on its promise to approve sweeping proposals that would cut about 100 officers and slash the department's budget.  "I've been here almost 30 years," Best said, adding that she has "a long history of working with the people in this city and certainly the officers who are under my care." OF NOTE: on Monday council member Kshama Sawant voted against the budget package, saying it does not do enough to defund the police.
HOW BAD CAN THE MAINSTREAM MEDIA GET? As Portland experiences more than 77 days of violent protests, riots, arson attacks, soaring homicides & shootings, and as Portland police and black clad insurgents engage in shield to shield combat (video). The Washington Post actually published a glowing photo essay glamorizing Antifa Riot Fashion.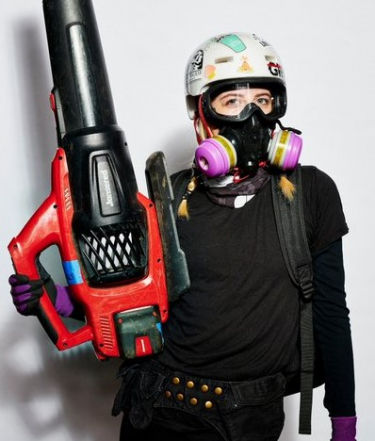 MORE INFO AND VIDEO HERE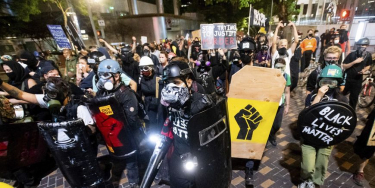 The United States is grappling with a new form of "urban guerrilla warfare" driven by the left's "lust for power," Attorney General William Barr told "Life, Liberty & Levin" on Sunday.
Discussing the ongoing Black Lives Matter riots rippling through several U.S. cities, Barr told host Mark Levin that the organization --  which has been characterized by the media as a fed-up activist group, "is comprised of "Bolsheviks" with a focus on on some form of socialism, communism."
"They are a revolutionary group that is interested in some form of socialism, communism. They're essentially Bolsheviks. Their tactics are fascistic, the group's radical leanings are reflective of the Democratic party's far-left shift in recent years, Barr said. "The left has "pulled away from the umbrella of classical liberal values that have undergirded" America and made a "secular religion" out of seeking "complete political victory." Video here and here.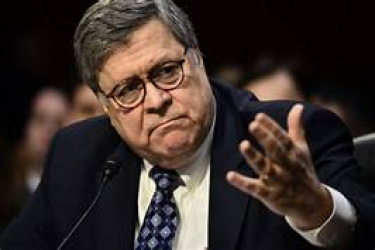 On August 28th Rev. Al Sharpton's National Action Network (NAN) has scheduled a BLM March and Rally with an estimated 100,000 participants In WA D.C. Expect 1,000 buses, dozens of jumbo trons and a major media 'fake news' bias coverage as yet another massive protest takes place during a supposed global pandemic.
The event, officially titled the "Get Off Our Necks" Commitment March on Washington, already has many area hotels sold out, according to NAN's D.C. Bureau Chief Ebonie Riley. Info here.
PERHAPS THEIR SLOGAN SHOULD BE: "We're Protesting, No Social Distancing, the virus doesn't affect Essential Social Justice Protesters & Rioters!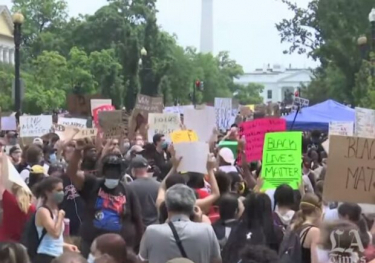 Washington Policy Center (WPC) – one of the nation's leading state-based, independent research organizations, is the organization behind a billboard campaign across the state. The Free Markets Destroy campaign will initially focus on five key areas; Free Markets Destroy: climate change, high rents, boredom, hunger and disease. 
The billboards contain the message "Free Markets Destroy" –  part of a bold, inspirational and first-of-its-kind campaign to highlight the value of the free market. "Free Markets Destroy" will focus on the power of the marketplace to destroy society's worst problems and continually improve our lives. 
"We have a growing concern – young Americans are warming to socialism and have a skeptical perception of our free enterprise system," explained WPC President Dann Mead Smith. "That trend cannot go unchallenged. Younger Americans are the first to pursue new technology, new cures, and all of the things the free market system provides. We know that the Free Market Destroys the things everyone in society hates – and replaces them with something even better."
"Young people want to change what's broken in our society," explained John Papola, the co-founder of Emergent Order. "WPC's campaign is about introducing new audiences to the power of free markets as a revolutionary force for positive change through the process of creative destruction." Video here.

Through a public disclosure request, Washington Policy Center obtained a document that lays out the Governor's goals, principles, "must-haves," supported revenue options and potential policy changes for what would be the Governor's "Transportation Investment Package" in 2021. The document was developed by the Governor's senior policy advisor in late April, and was reviewed by the Office of Financial Management (OFM) in early May of this year.
One of the revenue options is a Road Usage Charge (RUC), also known as a "Mileage Tax." The Governor's senior policy advisor added a note to the RUC option, indicating "this has been proposed as a replacement for the gas tax. Could consider replacement + new revenue."
The note about a RUC functioning as a "replacement + new revenue" raises a red flag. It could mean the Governor's office would like a RUC to supplement the gas tax until the gas tax is retired and can be fully replaced. It could also mean a gas tax is replaced with a much more expensive mileage tax. 
HISTORIC PEACE IN THE MIDDLE EAST! Israel and the United Arab Emirates agreed to establish diplomatic relations in a "historic diplomatic breakthrough" negotiated alongside the United States.
Most importantly, this deal is just the beginning. Other countries like Bahrain and Oman will eventually follow-suit and Saudi Arabia, whose Crown Prince Bin Salman has a friendly and working relationship with senior White House advisor Jared Kushner, may do the same. 
When National Security Advisor Robert O'Brien suggested this week that President Trump should receive the Nobel Peace Prize for his work in the region and around the work, he was mocked by the leftist media. But O'Brien is correct. President Trump deserves the prize by accomplishing far more than his predecessors on the issue. 
Through hard work, due diligence, and diplomacy, President Trump proved his foreign policy critics wrong again. They moved past the noise and found a different, successful path. The United States and the world are safer as a result. 
"This is a remarkable achievement for two of the world's most forward-leaning, technologically advanced states, and reflects their shared regional vision of an economically integrated region," Secretary of State Mike Pompeo said Thursday. "It also illustrates their commitment to confronting common threats, as small — but strong — nations." More here.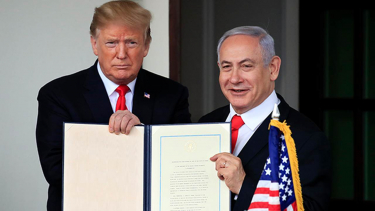 This evening, August 14th from 6 PM to 7:30 PM there will be a Elect Bill Bruch for LD 10 State House Meet & Greet in Mount Vernon. For more information and to RSVP please call (360) 941-8550. And for more information on the campaign see BillBruchForHouse.com.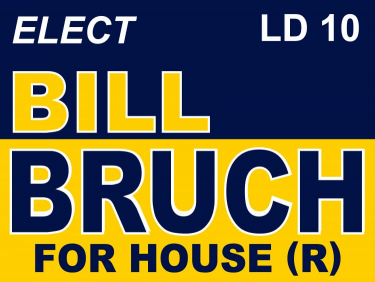 Next Friday and Saturday, August 21 and 22 there will be Legislative District 10 Doorbelling. For more information please contact Phillip Stockton (434) 363-2812.
Respect & Blessings,
Bill Bruch, SCRP Chairman
Share This Post...