Our 2020 Skagit County Republican Party Lincoln / Reagan Day Gala Peacful Protest officially SOLD OUT yesterday with over 400 RSVP's! The open air event is set for 4 pm to 7:30 pm at Corporate Air Center in Burlington, I5452 Airport Drive (MAP). The event will have a delicious catered dinner, feature live music with Superstar Country Singer Sarah Winchester, 2020 Candidates: Treasurer Duane Davidson, Lieutenant Governor Joshua Freed, Attorney General Matt Larkin, State Auditor Chris Leyba, Commissioner of Public Lands Sue Kuehl Pederson, Supreme Court Judge Dave Larson and others. SPECIAL GUEST SPEAKER LOREN CULP, KEYNOTE SPEAKER LD 19 STATE HOUSE REPRESENTATIVE JIM WALSH, our World Famous Dessert Dash and more!
The weather is supposed to be perfect. PLEASE ARRIVE EARLY TO AVOID LINES (DOORS OPEN AT 3 PM). Temperature checks required. Masks provided.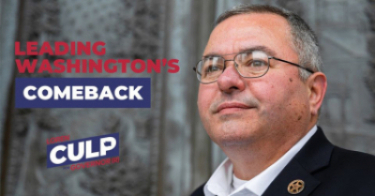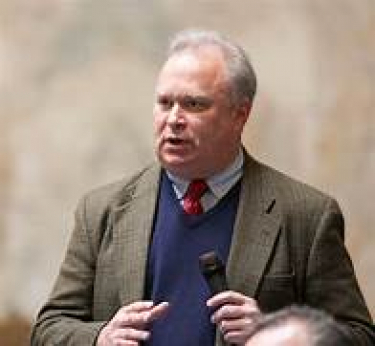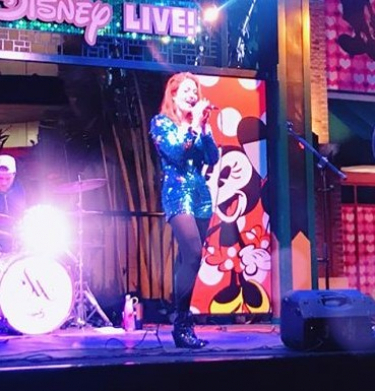 Joshua Freed will be the Lieutenant Governor candidate that will be representing the Republican Party as a Write-in candidate on the ballot for the November General election. The top two in this race were Democrats, they are guaranteed to split the vote and Freed has a real chance to win! On the November ballot everyone needs to write-in Joshua Freed!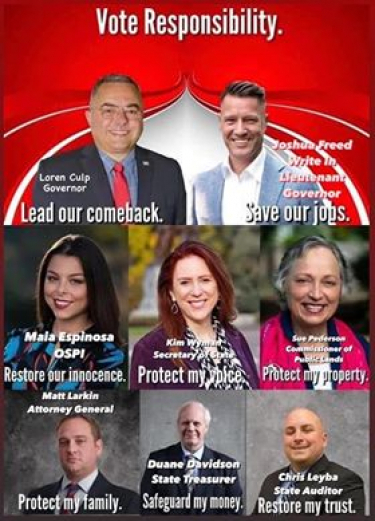 DO NOT FORGET TO TELL YOUR FRIENDS TO VOTE FOR MATT LARKIN FOR ATTORNEY GENERAL! Our current AG remains silent on pressing issues that have a real effect on our citizens. Sadly, since Bob Ferguson was elected, violent crime has spiked in Washington. According to the FBI, in Seattle alone, violent crime is up 21.7%, murders are up 67.9%, rape is up 38.6% and aggravated assault is up 29.7%. Worse yet, Seattle has the HIGHEST homeless population per capita in the country while, from 2014-2017, drug overdoses were up 19.4% according to the Centers for Disease Control.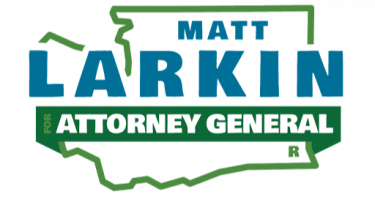 As AG Matt Larkin will enforce the laws, crack down on drug abuse, and provide real solutions to homelessness. More info
here
.
This week the Republican National Convention was held and showcased an impressive list of speakers vouching for President Trump. Speakers included Mike Pompeo, Nikki Haley, Jim Jordan, Kevin McCarthy, Melania Trump, Donald Truimp Jr., Eric Trump, Rand Paul, Larry Kudlow, Pam Bondi, Sean Parnell, Maxmo Alvarez, Mollie Hemminway, Kevin McCarthy, Kristi Noem, Kayleigh McEnany, Dan Crenshaw, Lara Trump, Burgess Owens, Ben Carson, Rudi Giulani, Tom Cotton, Ivanka Trump, and many others!
Last night President Trump gave an epic 70 minute speech in front of about 1,500 in attendance on the White House lawn, saying "This election will decide whether we save the American Dream, or whether we allow a socialist agenda to demolish our cherished destiny," later adding that "this election is the most important in the nation's history and will decide whether we will defend the American way of life, or whether we allow a radical movement to completely dismantle and destroy it."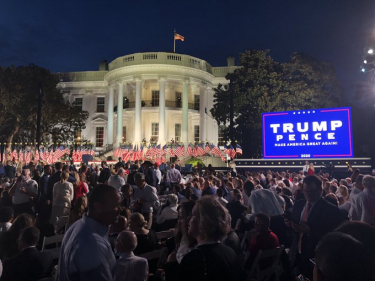 The event kicked off with several prominent Republican black leaders. Kim Klacik, a dynamic young Republican woman running for the late Elijah Cummings' congressional seat in Baltimore, set the tone by declaring: "The Democrats have controlled my city, Charm City, for over 50 years and they have run this beautiful place into the ground. Abandoned buildings, liquor stores on every corner, drug addicts and guns on the street — that is now the norm in many neighborhoods."
Herschel Walker, the football great, added his personal experience after what he called a 37-year-friendship with Trump. "I take it as a personal insult that people would think I would have a 37-year friendship with a racist," Walker said. "Growing up in the Deep South, I have seen racism up close. I know what it is. And it isn't Donald Trump."
On Tuesday Melania Trump spoke to a few hundred people at the White House Rose Garden, reflected on the "racial unrest in our country" and urged people to "come together in a civil manner. "Instead of tearing things down, let's reflect on our mistakes, Be proud of our evolution and look to our way forward. Every day, let us remember that we are one nation under God, and we need to cherish one another."
Eric Trump made a passionate speech saying "They believe the only path forward is to erase history and forget the past. They want to destroy the monuments of our forefathers.They want to disrespect our flag – burn the stars and stripes that represent patriotism and the American dream," he explained. "They want to disrespect our National Anthem by taking a knee, while our armed forces lay down their lives every day to protect our freedom. They do not want the Pledge of Allegiance in our Schools. Many, do not want 'one nation under God. The Democrats want to defund, destroy, and disrespect our law enforcement. The Democrats want an America where your thoughts and opinions are censored when they do not align with their own."
Secretary of State Mike Pompeo touted President Trump's foreign policy record saying "The primary Constitutional function of the national government is ensuring your family – and mine – are safe and enjoy the freedom to live, to work, learn and worship as they choose. Delivering on this duty to keep us safe and our freedoms intact, this President has led bold initiatives in nearly every corner of the world."
Also at the event President Trump released his 2021 agenda:
JOBS
·Create 10 Million New Jobs in 10 Months
·Create 1 Million New Small Businesses
·Cut Taxes to Boost Take-Home Pay and Keep Jobs in America
·Enact Fair Trade Deals that Protect American Jobs
·"Made in America" Tax Credits
·Expand Opportunity Zones
·Continue Deregulatory Agenda for Energy Independence
ERADICATE COVID-19
·Develop a Vaccine by The End Of 2020
·Return to Normal in 2021
·Make All Critical Medicines and Supplies for Healthcare Workers in The United States
·Refill Stockpiles and Prepare for Future Pandemics
END OUR RELIANCE ON CHINA
·Bring Back 1 Million Manufacturing Jobs from China
·Tax Credits for Companies that Bring Back Jobs from China
·Allow 100% Expensing Deductions for Essential Industries like Pharmaceuticals and Robotics who Bring Back their Manufacturing to the United States
·No Federal Contracts for Companies who Outsource to China
·Hold China Fully Accountable for Allowing the Virus to Spread around the World
HEALTHCARE
·Cut Prescription Drug Prices
·Put Patients and Doctors Back in Charge of our Healthcare System
·Lower Healthcare Insurance Premiums
·End Surprise Billing
·Cover All Pre-Existing Conditions
·Protect Social Security and Medicare
·Protect Our Veterans and Provide World-Class Healthcare and Services
EDUCATION
·Provide School Choice to Every Child in America
·Teach American Exceptionalism
DRAIN THE SWAMP
·Pass Congressional Term Limits
·End Bureaucratic Government Bullying of U.S. Citizens and Small Businesses
·Expose Washington's Money Trail and Delegate Powers Back to People and States
·Drain the Globalist Swamp by Taking on International Organizations That Hurt American Citizens
DEFEND OUR POLICE
·Fully Fund and Hire More Police and Law Enforcement Officers
·Increase Criminal Penalties for Assaults on Law Enforcement Officers
·Prosecute Drive-By Shootings as Acts of Domestic Terrorism
·Bring Violent Extremist Groups Like ANTIFA to Justice
·End Cashless Bail and Keep Dangerous Criminals Locked Up until Trial
END ILLEGAL IMMIGRATION AND PROTECT AMERICAN WORKERS
·Block Illegal Immigrants from Becoming Eligible for Taxpayer-Funded Welfare, Healthcare, and Free College Tuition
·Mandatory Deportation for Non-Citizen Gang Members
·Dismantle Human Trafficking Networks
·End Sanctuary Cities to Restore our Neighborhoods and Protect our Families
·Prohibit American Companies from Replacing United States Citizens with Lower-Cost Foreign Workers
·Require New Immigrants to Be Able to Support Themselves Financially
INNOVATE FOR THE FUTURE
·Launch Space Force, Establish Permanent Manned Presence on The Moon and Send the First Manned Mission to Mars
· Build the World's Greatest Infrastructure System
·Win the Race to 5G and Establish a National High-Speed Wireless Internet Network
·Continue to Lead the World in Access to the Cleanest Drinking Water and Cleanest Air
Partner with Other Nations to Clean Up our Planet's Oceans
AMERICA FIRST FOREIGN POLICY
·Stop Endless Wars and Bring Our Troops Home
·Get Allies to Pay their Fair Share
·Maintain and Expand America's Unrivaled Military Strength
·Wipe Out Global Terrorists Who Threaten to Harm Americans
·Build a Great Cybersecurity Defense System and Missile Defense System
Soon after the tremendous speech by President Trump and after the RNC concluded the 2020 convention, a violent mob of over 100 BLM attacked several innocent people as they departed the event, including Republican Senator Rand Paul and his wife Kelley and a Washington D.C. Police Officer. RAND PAUL TWEETED Just got attacked by an angry mob of over 100, one block away from the White House. Thank you to @DCPoliceDept for literally saving our lives from a crazed mob.
This of course was orchestrated to take away from the spectacular event and give the fake news a narrative to go with. The is the same tactic the Left used for Trumps 4th of July Speech at Mount Rushmore, it is what Democrats do...
Nursing home administrators and advocacy groups across Washington state are accusing state Office of Financial Management (OFM) officials of withholding federal dollars allocated by Congress and "pocketing the money" and knowingly putting many skilled nursing facilities in an impossible financial situation.
The money allocated by congress was for the purpose of Washington State Nursing Homes to help them care for their residents in the time of Covid-19. Instead the state slashed the $29 per day allotment to $5 per day beginning in July, keeping the $24 per day difference, even as Congress extended the state of emergency funding.
At issue is emergency funding authorized by Congress to help Medicaid-funded programs in every state. The Families First Coronavirus Response Act provided for a 6.2% increase in all Medicaid programs. In Washington, the Department of Social and Health Services (DSHS) calculated the nursing facility portion of the money: $42 million from January to June, which would support an increase of $29 per day for all Medicaid-funded residents.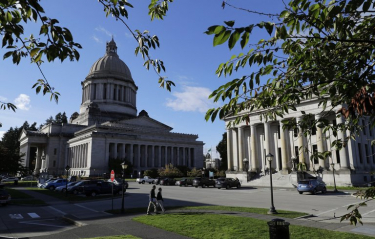 Costs inside nursing homes have skyrocketed during the pandemic with new expenditures associated with mandated protective gear, testing and increased staffing needs. In addition, most facilities cannot admit new residents or patients because of coronavirus restrictions.
"This is unconscionable. They are taking the position that cutting funding for those on the front lines of the gravest health crisis in a century is somehow acceptable if it is explained away as 'belt-tightening." They are saying that we can respond to the pandemic and protect our most vulnerable on $5 a day," said Robin Dale, president and CEO of the Tumwater-based advocacy group Washington Health Care Association.
Alyssa Odegaard, vice president of public policy for LeadingAge Washington, which represents nonprofit long term care organizations in the state, said "the pandemic is costing nursing homes an average increase of $50 per person, per day."
"With increased costs, an inability to admit residents and the recent cut from the state, Odegaard said some of their member organizations worry they'll be forced to close their doors. It was mind-blowing. We know this virus disproportionately impacts those living in congregate care settings - skilled nursing facilities and other long-term care (options). They need the support right now from our state and so, how you could then take the money that's going to care for them during this emergency; it's hard to even understand what the logic behind that was."
On Monday Seattle police officers were forced to kick their way out of an East Precinct exit door Monday night, after rioters jammed it with boards and rebar, and attempted to seal the door closed with quick-dry cement. As the door was being jammed, surveillance video shows several other people building a fire outside the building near the exit door, in an attempt to set the building on fire.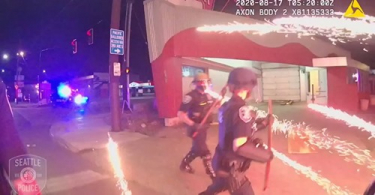 "I think what this shows you is that these people are intent on killing police officers," said Mike Solan, president of the Seattle Police Guild, who called the act '"clear domestic terrorism."
"We're being held hostage by a group of 100 to 150 people that are bent on destroying this city and hurting police officers," Solan said.
Solan said a short time later, the Guild headquarters also became the target of three firebombs. "Our surveillance video captured two individuals scouting our location for several hours," Solan said.
Surveillance video from that location shows one of the firebombs bursting, igniting the building's rear stairway in flames, before officers were able to extinguish the fire.
"That's why it's incumbent upon our elected officials to put a stop to this immediately," he said. "How can city leaders be so feckless? It can't just be on the officers. This is an absolute overthrow attempt of some of our government institutions, and police are in the way. They or the officers will get hurt or killed so they can put forth that agenda."
And of course to date no- one in city leadership has denounced these attacks.
On September 14th Hillsdale College will be holding a free course that explores some of the most important philosophers of our Western tradition, including Plato, Aristotle, Aquinas, Descartes, and Nietzsche. Professor of Philosophy Nathan W. Schlueter and President Larry P. Arnn examine important questions and explain and discuss important ideas that have shaped the Western world. Philosophy pursues knowledge about the fundamental questions that all human beings are called to answer. More information and to register click here.

Many Washington State Business Owners have had enough of Governor Inslee's unconstitutional mandates. Case in point, Robert Bordner, owner of Slidewaters Water Park in Lake Chelan has a TV commercial out in which he says:
"Governor Inslee's edicts are not saving lives, they are killings businesses, our employees are healthy, all our guests have been healthy, the only thing unhealthy with this situation is Governor Jay Inslee's overreaching arm to shut us down. And that is what we are fighting for. To overrule a government that is trying to take over the lives of American citizens for their own benefit and their own plans."  Commercial here.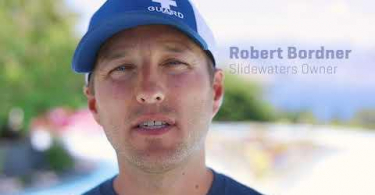 "The outrage over Governor Inslee's latest attempts to sabotage the economy and kill off small business is reaching a boiling point. The attack on agribusiness may be the straw that broke the camels back. We can no longer stand down and allow this to continue. Idaho is going full open and many other states have already done the same. The numbers are clear. The budget is going critical, small business is at the ragged edge and there is clearly no emergency. Unemployment is running out or being severally reduced for many adding to the misery which will only accelerate from here if we don't change course. It's time for a full court press to open Washington. Let's start with the governors office. Call 1-360-902-4111 and tell the governor "Enough is enough, open Washington now" Former State 12th LD House Representative, Gary Condotta.  
Dr. Denis G Rancourt, PhD is one of many doctors that say "Masks and Respirators do NOT work to Prevent Transmission of Viruses such as Covid-19." There have been extensive randomized controlled trial (RCT) studies, and meta-analysis reviews of RCT studies, which show that masks and respirators do NOT work to prevent respiratory influenza-like illnesses, or respiratory illnesses believed to be transmitted by droplets and aerosol particles. More info, sources and review of the Medical Literature here.
THERE IS NO STATUTORY LAW THAT MANDATES MASKS -- IT IS YOUR CHOICE -- YOU ARE NOT REQUIRED TO WEAR A MASK UNLESS YOU ARE COMFORTABLE DOING SO -- NO BUSINESS CAN DISCRIMINATE AGAINST YOUR ENTRY IF YOU CANNOT WEAR A MASK. -- CALL THE SHERIFF IF YOU ARE HARASSED OR INTIMIDATED -- LEGAL INFO HERE. Source: https://www.thehealthyamerican.org/. Video here.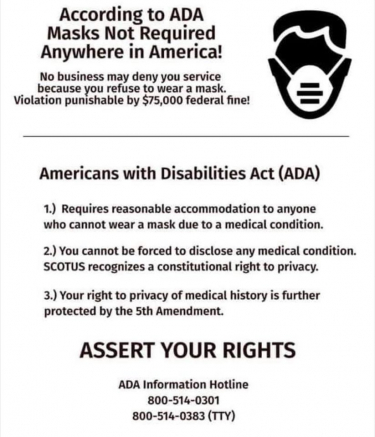 Footage of Dr. Stella Immanuel, along with many other doctors speaking at the White Coat Summit in Washington DC, is being aggressively censored by Big Tech social media platforms; "If Americans continue to let so-called experts and media personalities make their decisions, the great American experiment of a Constitutional Republic with Representative Democracy will cease." — America's Frontline Doctors
The live WA DC summit footage received over 15 MILLION views online before Big Tech colluded to censor it, and in some cases even suspended accounts with big platforms who were sharing it. The doctors represented are among a coalition of 600+ medical professionals who signed a letter emphasizing that Hydroxychloroquine (HCQ) has been unnecessarily politicized as a treatment option for COVID-19. According to their medical experience, including research papers and hands-on treatment, a protocol of Hydroxychloroquine, zinc, and (basic antibiotic) Zithromax has successfully treated many thousands of patients without adverse effects. Video HERE and HERE.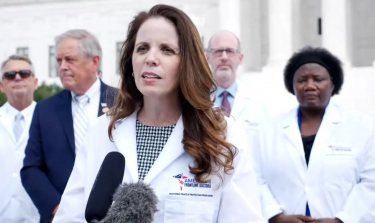 These American doctors shared how a massive disinformation campaign by conventional media personalities and institutional health authorities has unnecessarily caused lockdowns, suffering, economic hardship, and massive casualties. Could this information be used to stop the pandemic in its tracks, and is it being unfairly suppressed for political/financial gain? Help eliminate controlled narratives and censorship by signing and sharing this petition HERE. 
PragerU has millions of followers on Facebook and is the leading voice for conservative content online. However, Facebook has announced that even people who have chosen to follow their page will be deliberately prevented from seeing their posts. PragerU has millions of followers on Facebook. However, Facebook falsely claims PragerU is a fake news media outlet and they will, therefore, restrict their reach to their own audience. Stand up to Big Tech censorship and sign the petition against Facebook HERE.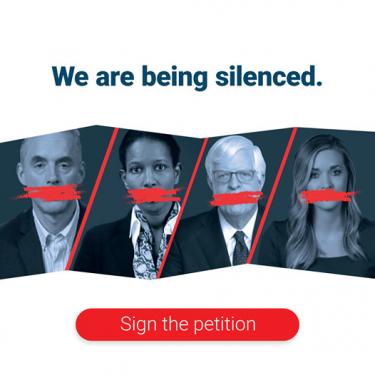 Buoyed by blacks and independent voters, as well as urban dwellers shocked by the Black Lives Matter protest violence raging in some cities, President Trump's approval rating has hit a new high, according to a survey heavy with minority voters.
The latest Zogby Analytics poll just shared with Secrets had Trump's approval at 52%. "The president has recorded his best job approval rating on record," said pollster Jonathan Zogby.
What's more, his approval rating among minorities was solid and, in the case of African Americans, shockingly high. Zogby said 36% of blacks approve of the president, as do 37% of Hispanics and 35% of Asians.
Last weekend's Loren Culp for Governor Rallys in Arlington were amazing; an estimated 1,700 - 2,000 people were in attendance over the two days. Loren was fabulous. We must help get him elected! Also a Huge Thank You to the Culp Campaign for the opportunity to speak on Friday, LD 10 Senator Ron Muzzall and State House Candidate Greg Gilday spoke as well.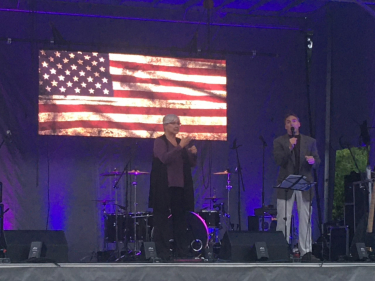 The Stanwood Turning Point USA group is hosting a local candidate forum on Friday, September 4th from 5:30 PM to 8:30 PM on Camano Island. Candidates include LD 10 Senator Ron Muzzall, LD 10 State House Bill Bruch, LD 10 State House Greg Gilday, Island County Commissioner Jill Johnson, ICC Candidate Dan Evans, Damian Greene, and CD 2 Congress Tim Hazelo. Please call Mac (@ 360) 965-9033 to RSVP.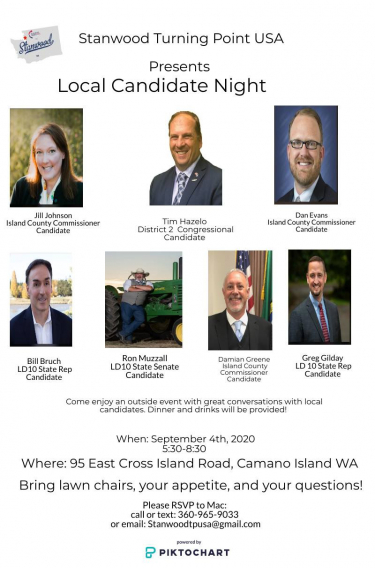 The monthly Skagit County Republican Women's Meeting will be held on Tuesday, September 1st, 10:30 AM - Noon at 14455 Gibralter Rd, Anacortes. Speakers will include Skagit County Commissioner Ron Wesen, LD 39 State House Representative LD 10 State House Candidate Greg Gilday. To RSVP contact SCRW President Judy Billings (206) 550-1836 - judybillings@gmail.com.
Respect and Blessings,
Bill Bruch, SCRP Chairman
Share This Post...