"Building Coalitions for Liberty"


October 25, 2021 -- Gig Harbor, WA -- Olympic Conference 
SCRP Chairman Bill Bruch received the Olympic Conference 2021 Activist of the Year Award at the weekend's sold out 2021 Olympic Conference held in Gig Harbor with 420 in attendance! The theme of this years conference was "What are the stakes? A Turning Point fot Washington. " Legislative District 26 State House Rep. Jesse Young was the event MC, and Charlie Kirk and Todd Herman were weekend keynote speakers.
Chairman Bruch said, "Thank you so much to all the event organizers and volunteers for delivering such an incredible event! I am extremely honored and humbled to have spoken on Election Integrity and to have received the Olympic Conference 2021 Activist of the Year Award. The memories of this event are something I will always cherish."
The conference included: WA State House Representatives Jt Wilcox, Andrew K Barkis, Jim Walsh, Robert Sutherland, Brad Klippert, Rob Chase, Bob McCaslin, WA Sate Senator Phil Fortunato and Washington State Republican Chairman Caleb Heimlich.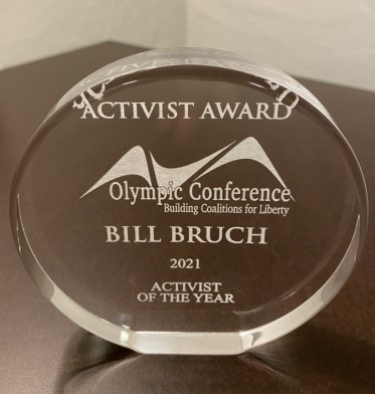 The Olympic Conference "Building Coalitions for Liberty," is a forum for conservative, liberty-oriented, and other like-minded groups and individuals. It is a 3 day-long event has been developed in response to the growing awareness among many people of the value for preserving the rights and freedoms protected by the Constitution both locally and nationally. This upsurge in interest and concern is expressed in a diverse cross-section of people and organizations and the Olympic Conference is dedicated to connecting, uniting, and informing the many varied people and groups in the region into coalitions for liberty.
Share This Post...