Florida Governor Ron DeSantis blasted the FBI's raid Monday night on former President Donald Trump's home at Mar-a-Lago, saying the Biden administration has turned the nation into a 'Banana Republic.'
The investigation is centered around classified material that Trump brought with him to Mar-a-Lago from the White House. But the shocking specter of federal agents swarming a former president's private home left many conservatives, including DeSantis, stunned.
"The raid of [Mar-a-Lago] is another escalation in the weaponization of federal agencies against the Regime's political opponents, while people like Hunter Biden get treated with kid gloves," DeSantis wrote on Twitter. "Now the Regime is getting another 87k IRS agents to wield against its adversaries? Banana Republic."
The New York Times reported that Trump delayed returning more than a dozen boxes of material to the National Archives which included documents that were "marked as classified national security information."
Federal prosecutors opened a grand jury investigation back in May into Trump over whether classified material that ended up at his home in Mar-a-Lago was mishandled.
The main purpose of these types of investigations is usually for federal authorities to determine if any classified material was compromised so that intelligence officials can take steps to protect sensitive sources and methods. Prosecutors are seeking to learn every aspect of how the documents were handled from the time the documents left the White House until they were returned to the National Archives.
For prosecutors to be able to prove that a crime was committed, they would need evidence showing that the parties involved in removing the documents from the White House knew that the documents were classified and knew that removing them would violate the law. Article
President Trump Responded Saying: "Nothing like this has ever happened to a President of the United States before. After working and cooperating with the relevant Government agencies, this unannounced raid on my home was not necessary or appropriate," Trump said. "It is prosecutorial misconduct, the weaponization of the Justice System, and an attack by Radical Left Democrats who desperately don't want me to run for President in 2024, especially based on recent polls, and who will likewise do anything to stop Republicans and Conservatives in the upcoming Midterm Elections." 
"Such an assault could only take place in broken, Third-World Countries. Sadly, America has now become one of those Countries, corrupt at a level not seen before." Article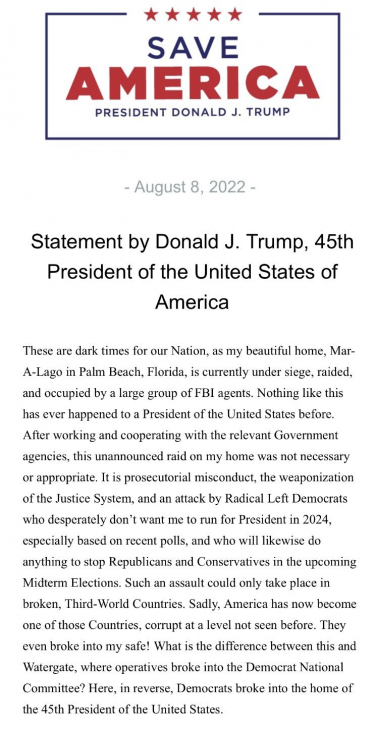 __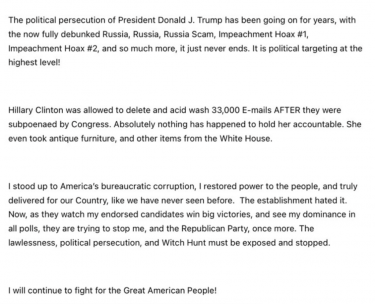 The FBI and others from the Federal Government would not let anyone, including my lawyers, be anywhere near the areas that were rummaged and otherwise looked at during the raid on Mar-a-Lago. Everyone was asked to leave the premises, they wanted to be left alone, without any witnesses to see what they were doing, taking or, hopefully not, "planting." Why did they STRONGLY insist on having nobody watching them, everybody out? Obama and Clinton were never "raided," despite big disputes!
–Donald Trump via Truth Social
_____________________________________________________________________________

Congresswoman Marjorie Taylor issued the following statements on the FBI raid of President Donald J. Trump's residence in Florida, Mar-A-Lago:
"The FBI is raiding President Trump's home in Mar-A-Lago! This is the rogue behavior of communist countries, NOT the United States of America!!!

These are the type of things that happen in countries during civil war. The political persecution MUST STOP!!!"
"DEFUND THE FBI!"

Congressman Jim Jordan commented: "What is happening will NOT be tolerated!!! We are coming," reiterating Leader Kevin McCarthy's message to AG Merrick Garland. "Elections are how Americans solve political differences. Not by radicalizing our federal law enforcement to take political enemies out. This is why we must protect election integrity."
First, Attorney General Merrick Garland abused his power to weaponize the federal government against parents who spoke up about what their children are being taught in schools.    Now, we are witnessing, for the first time in American history, an FBI raid of a former president's home. Again, this has NEVER happened before in American history. NEVER.
Democrats have promulgated false narratives against President Trump since before he was elected. They've spent millions of YOUR tax dollars on bogus investigations that have all been debunked. But their political theater has reached a dangerous new low."
RELATED: In an unprecedented, banana republic move, the FBI raids Donald Trump's Mar-a-Lago on Monday. But why? The corrupt agency's reasoning doesn't seem to match up with reality. Liz breaks down everything we know so far—and everything we still need answers to. Did President Vegetable in the White House know about this plan? What does it mean for Donald Trump? And even more importantly, what does it mean for the future of our constitutional republic?
REVEALED: The motive behind the Trump Mar-a-Lago raid - The Democrats are desperately looking for any justification to prevent President Trump from running again in 2024.
"Dark Times For America" – 30 FBI Agents Raided Trump's Mar-A-Lago Home Turning The U.S. Into A Zimbabwean Venezuelan Banana Republic
State Rep Sabatini Declares It's Time For Florida To Severe Ties with Federal Agencies, Arrest Corrupt Federal Agents, Supports Florida Police Protection For Trump
'Enough': House GOP Pledges Investigation of DOJ With November Win After FBI Raids Trump's Mar-a-Lago
Trump Family Reacts to FBI Raid of Trump's Mar-a-Lago
Report: Fla. Judge Who Approved FBI Raid On Mar-A-Lago Represented Financier Jeffrey Epstein's Employees
FBI Seizes Congressman Scott Perry's Cell Phone
FBI's Trump Home Raid Improperly Intrusive, Circumstances Indicate
Share This Post...