November 9, 2023, WASHINGTON (AP) — by: CHRISTINA A. CASSIDY, GENE JOHNSON and ED KOMENDA, Associated Press
Authorities were hunting Thursday for whoever sent suspicious letters — including some containing fentanyl — to elections offices in at least five states this week, delaying the counting of ballots in some local races in the latest instance of threats faced by election workers around the country.
The letters were sent to elections offices in the presidential battlegrounds of Georgia and Nevada, as well as California, Oregon and Washington, with some being intercepted before they arrived. Four of the letters contained fentanyl, the FBI and U.S. Postal Inspection Service reported in a statement to elections officials Thursday.
"Law enforcement is working diligently to intercept any additional letters before they are delivered," the statement said.
The Pierce County auditor's office in Tacoma, Washington, released images of the letter it received, showing it had been postmarked in Portland, Oregon, and read in part, "End elections now."
In Seattle, King County Elections Director Julie Wise said that letter appeared to be the same one her office got — and that it was "very similar" to one King County received during the August primary, which also contained fentanyl.
Among the offices that appeared to be targeted was Fulton County in Georgia, which includes Atlanta and is the largest voting jurisdiction in one of the nation's most important presidential swing states. Authorities were working to intercept the letter. In the meantime, Secretary of State Brad Raffensperger said officials were sending the overdose-reversal drug naloxone to the office as a precaution.
"This is domestic terrorism, and it needs to be condemned by anyone that holds elected office and anyone that wants to hold elective office anywhere in America," said Raffensperger, a Republican.
In California, the United States Postal Service intercepted two suspicious envelopes that were headed to election facilities in Los Angeles and Sacramento.
Authorities in Lane County, Oregon, which includes the University of Oregon, were investigating a piece of mail that arrived at the local election office Wednesday. No one who came in contact with it had experienced any negative health effects, said Devon Ashbridge, spokeswoman for the Lane County Elections Office in Eugene.
The incident prompted officials to close the office and delayed an afternoon pickup of ballots. Ashbridge declined to provide further details.
"Someone attempted to terrorize our elections staff, and that's not OK," Ashbridge said.
On Wednesday, authorities in Washington state said four county election offices had to be evacuated as election workers were processing ballots cast in Tuesday's election, delaying vote-counting.
Election offices in King, Skagit, Spokane and Pierce counties received envelopes containing powders. Local law enforcement officials said the substances in King and Spokane counties field-tested positive for fentanyl. In at least one other case, the substance was baking soda.
Pierce County Auditor Linda Farmer released images of the envelope and letter her office received. The letter contained a warning about the vulnerability of "ballot drops" and read: "End elections now. Stop giving power to the right that they don't have. We are in charge now and there is no more need for them."
________________________________________________________________________________
Nov 8, 2023 Statement from SCRP Chairman Bill Bruch:
"Today we had two SCRP volunteer Republican election observers for the 10:30 AM - 12:30 PM shift, both say that at about 11:30 AM the Skagit CO Election worker who received the envelope/letter with the bag of white powder (return address of Portland, OR on envelope) indicated that the letter/message said something like: that we are not having real elections and this one should be stopped."
"The Skagit County Republican Party condemns any acts of violence and all acts of fraud and/or acts of terrorism."
The below image has been circulated on social media and was reported on the Ari Hoffman radio show. It appears to have been sent from Portland, OR to the Pierce County elections office. POST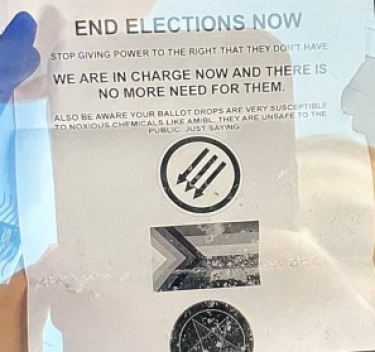 _______________________________________________________________________________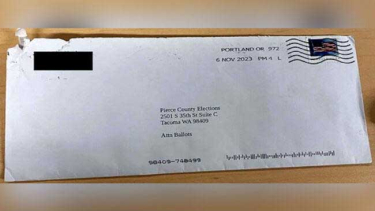 Related Articles:
Fentanyl found in substance delivered by mail to Skagit County Elections Department
Four Washington elections offices evacuated during ballot processing
Election offices are sent envelopes with fentanyl or other substances. Authorities are investigating
Fentanyl-Laced Letters Sent to Election Offices in Multiple States
FBI and USPS investigating as election officials in Georgia, Oregon, Washington receive suspicious mail
FBI investigating letters with suspicious powder sent to election workers in multiple states
Fentanyl-Laced Letter Sent To Georgia Election Official
Election Centers Were Sent Fentanyl-Laced Letters With Antifa Symbols
'Suspicious' Envelopes Laced With Fentanyl Sent To State Election Offices
Share This Post...