Doug Logan, the CEO of Cyber Ninjas, presented to the Arizona Senate on Friday


September 25, 2021 Election Integrity Update
VIDEO: The America Project reacts to the Maricopa County, AZ Forensic Audit Hearing
Rumble — Sept 24, Steve Bannon War Room we discuss the breaking news with the AZ audit. Our guests are: Dr. Peter Navarro, Mark Finchem, AG Ken Paxton, Boris Epshteyn, Rudy Giuliani. Stay ahead of the censors - The forensic audit of Arizona's Maricopa County has revealed thousands of discrepancies and issues along with a number of other serious election integrity problems.
Doug Logan, the CEO of Cyber Ninjas, the firm who led the forensic audit of Maricopa County's 2020 election results, revealed serious problems with the ballot forms, votes, and others. Join us Video: Warroom.org
Report Conclusion:
"57,734 ballots with serious issues were identified in the audit. These issues include improper voter registration, improper votes, and discrepancies in the registration. This is a conservative estimate, as there were other identified problems that were not quantified nor included in that total, likely resulting in a much larger number of flawed ballots. Additional issues identified: backdated registrations, multiple voter registrations linked to the same voter affidavit, voters without records in a commercial database, and printing defects rendering thousands of ballots as suspicious.
"In the 2020 presidential election, the margin of victory was only 10,457 votes, a small fraction of the 57,734 ballots with known issues. Again, this is almost 6 times the margin of victory in the Presidential race and is multiples of the margin of victory in other races. Based on these factual findings, the election should not be certified, and the reported results are not reliable."
"In the history of democracies – from ancient Athens to today – ours was the most detailed,demanding, and uncompromising election audit that has ever been conducted," opened Senate President Karen Fann, noting that auditors spent a combined more than 100,000 hours examining Maricopa County's handling of the 2020 election.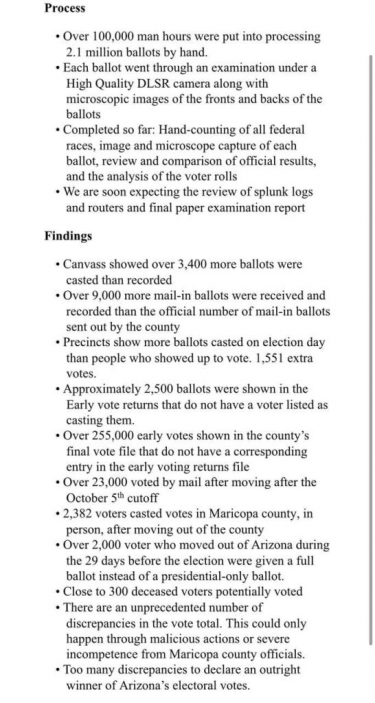 AUDIT UPDATE: Senate President Refers Audit Findings To Arizona Attorney General
'The Election Should Not Be Certified': The *Real* Arizona Election Audit Report Was Just Released – And It is a Bombshell
Dr. Shiva at AZ Senate Hearing: Over 17,000 Total Duplicate Ballots — Votes By Those Who Voted More Than Once in Arizona — 1.5 Times Biden's Winning Margin (VIDEO)
THEY CAUGHT THEM AND THE CROWD CHEERED!! AZ Audit Team CAUGHT Maricopa County Officials DELETING COMPUTER ELECTION FILES — VIDEO
Individuals Responsible For Manipulating Maricopa Counting Votes - Video
AZ Rep Mark Finchem Details Fraud Findings In AZ Audit – Fann Refers To AZ Attorney General For Prosecution
Maricopa Audit Reveals Thousands of Discrepancies with Ballot Forms, Serious Integrity Issues
Arizona Audit Firm Says Maricopa County Didn't Give Them Key Information Until Day Before Hearing
Kelli Ward, Sen Warren Petersen Call On AG Brnovich to Take Action After Audit Exposes Potential Lawbreaking -- "It appears that they broke the law with duplicate ballots. That's a huge deal"
Wendy Rogers Reads 'New Declaration Of Independence' Letter Demanding Nationwide Audits Amid Massive Calls To Decertify 2020 Election
Battle Of The Titans In Pennsylvania
Texas Announces 'Full Forensic Audit' of 2020 Election Has Already Begun
OF NOTE: IN THE FRIDAY REPORT IT WAS MENTIONED BY THE LEAD CONTRACTOR, CYFIR FOUNDER BEN COTTON, THAT WA STATE VOTING ELECTION DATA WAS FOUND ON AZ ELECTION MACHINES VIDEO HERE
Entire Maricopa County Audit Hearing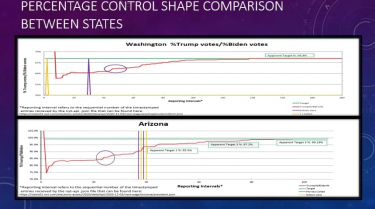 President Trump's Comment on the report: "People who win don't delete files."
General Audit Findings
"Based on these factual findings, the election should not be certified, and the reported results are not reliable." - Cyber Ninjas' Draft Report
Hand recount roughly confirms Maricopa County official vote count (this does not address fraudulently cast ballots)
Roughly 27k ballots were cast by "voters" who had moved prior to the election
Computer files missing from election management system (EMS)
Roughly 280k ballot images on EMS were missing or corrupt
Log files appear to have been intentionally rolled over†
Database data related to 2020 General election had been cleared†
Ballot batches not always separated properly
Some duplicate ballots were missing required serial numbers
Some original ballots were duplicated more than once
Maricopa never provided Chain-of-Custody documentation to Auditors for ballots that were moved into Auditors' care
Basic cyber security best practices and guidelines not followed
Software and patch protocols not followed
Unique usernames and passwords not allocated for system credentialing
No baseline for host and network activity
More Take-Aways
AZ Attorney General, Mark Brnovich, preemptively vowed to take legal action where appropriate: "I will take all necessary actions that are supported by the evidence and where I have legal authority. Arizonans deserve to have their votes accurately counted and protected."
The America Project'sAZ Audit Report Debrief
Early Voting Ballot Envelope Signature Findings
"The signature verification process…is unverifiable." - Dr. Shiva
17k duplicated ballot envelope images not reported by Maricopa County
25% surge in duplicated ballot envelope images in last 6 days of election
Rate of signature illegibility increased from 3% to 97% in the 4 days after the election
Despite increase in ballot envelope images, the rate of mismatches decreased from 0.116% to 0.031%
Unsigned duplicates appear to have been stamped as "accepted" for vote count
It is important to note that Dr. Shiva did NOT perform any analysis of signatures
  "We have captured screen shots of Maricopa County people at the [system] keyboards at that time." - Ben Cotton (in regard to the revelation that officials deleted data from the EMS)
Failure to perform basic OS security patches (typically done weekly)
Failed to update antivirus definitions (typically done weekly)
EAC certification defense does NOT appear to be valid due to system changes AFTER Dominion software was installed
Operating system logs not saved
Security logs not saved
Admins used shared accounts and passwords
Files were deleted: 865 directories and 85,673 election-related files were deleted from EMS C:\Drive†
Maricopa County logs did not contain windows security logs prior to 02/05/21
38k security logs entries appear to have been intentionally overwritten by EMSADMIN account†
SQL logs indicate the RTRAdmin account purged the General election results from the database the day before the start of the audit
Elections system computers are internet capable, appear to have been connected to the internet, and used to access the internet
One elections system computer contained a second (bootable) hard drive that contained Dominion data from WA STATE
Share This Post...