October 7, 2023 -

12:00pm

to

1:30pm
The SCRP Central Committee will meet Saturday, Oct 1 at the SCRP Burlington Office, 281 S. Burlington Blvd. (MAP). Meeting time is from noon to 1:30 PM. For more information please contact SCRP Chairman Bill Bruch @ (360) 820-1700.
Former Colonel, Benton County Sheriff and 7 Term State Representative Brad Klippert will be a guest speaker! Brad is our Republican Write-in Candidate for WA State Secretary of State in 2022. More Info: writeinklippert.com.
OF NOTE: Our 2022 Slate Card Doorbell pieces are now available at our SCRP office located at 281 South Burlington Blvd. Open Mon - Fri 10 AM to 2 PM
IMPORTANT UPDATE: Unfortunately Skagit County Sheriff Don Mc Dermott (D) will not make our meeting on Saturday. Sheriff McDermott reached out to me a few days back and said Cody Hart (who identifies as a Republican) is publicly attacking him saying Don will be going to jail, etc. He apologized and said he is available for one-on-one meetings, but his campaign is recommending that he does not do Republican events in 2022. The Whatcom County Sheriff also contacted me about Cody saying Cody recently broke the law by recording a meeting with a body camera on with Skagit Elections Supervisor Gabrielle Clay (without her knowledge). Because of these and other troublesome and illegal actions (calling and publicly attacking Skagit 911, illegally recording conversations with the WA State SOS office, etc.) Cody Hart is no longer welcome at the SCRP office in Burlington.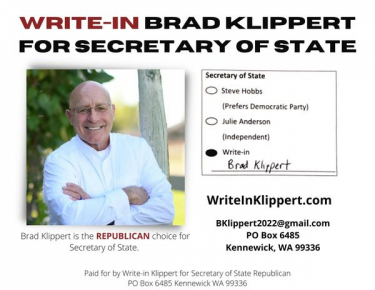 https://skagitrepublicans.com/RepublicanBradKlippertLaunchesWriteInCampa...
PLEASE REMEMBER TO FREQUENTLY CHECK THE SKAGITREUBLICANS.COM WEBSITE / CALENDAR / BLOG /  INFO FOR VOTERS / ELECTION INTEGRITY PAGES, TO STAY UPDATED
Share This Post...