The 2020 General Election ballots are now out, if you have not received yours call the Skagit County Auditor (360) 416-1703. Please vote early and get it in a drop box asap: The choice is very clear, up and down the ticket it is America vs Socialism. Here are the SCRP recommended list of Candidates to vote for in the upcoming election.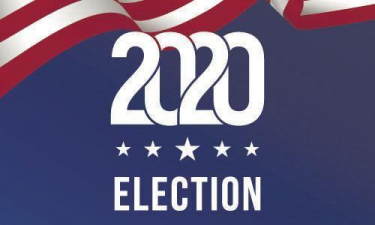 PRESIDENT: Donald Trump
U.S. CONGRESS
Congressional District 1: Jeffery Beeler
Congressional District 2: Tim Hazelo
STATEWIDE
Governor: Loren Culp
Lieutenant Governor: WRITE IN Joshua Freed
Sec of State: Kim Wyman
State Treasurer: Duane Davidson
Attorney General: Matt Larkin
State Auditor: Chris Leyba
Office of the Superintendent of Public Instruction: Maia Espinoza
Commissioner of Public Lands: Sue Kuehl Pederson
STATE LEGISLATIVE 
LD 10 State Senator: Ron Muzzall
LD 10 State House: Bill Bruch
LD 10 State House: Greg Gilday
LD 39 State Senator: Keith Wagoner
LD 39 State House: Carolyn Eslick
LD 39 State House: Robert Sutherland
LD 40 State Senator: Charles Carrell
LD 40 State House: Russ Dzialo
COUNTY
Skagit County Commissioner: Ron Wesen
Skagit County Commissioner: Peter Browning
PUD Commissioner: Andrew Miller
JUDICIAL
Washington State Supreme Court (Pos 3): Dave Larson
Skagit County Superior Court (Pos 3): Tom Seguine
REFERENDUM - 90 - (Reject)
Advisory Vote 32 - (Repeal) SB 5223 the plastic bag ban
Advisory Vote 33 - (Repeal) SB 5628 Tax on heavy equipment
Advisory Vote 34 - (Repeal) SB 6492 increased B&O taxes on services businesses and hospitals.
Advisory Vote 35 - (Repeal)  SB 6690 B&O tax on manufacture and sales of commercial airplanes. 
Joint Resolution 8212 - (Approve) (Reject) The SCRP is split on this: This would require a Constitutional amendment to allow state taxes to go toward long-term care to be invested in the stock market.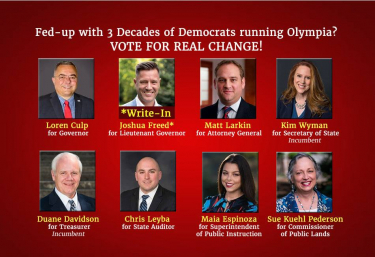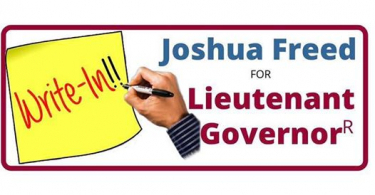 Our Elect Bill Bruch for LD 10 State House campaign is making a final fundraising effort. My opponent has raised nearly $400,000, mostly from large unions and Far-left PACS; this does not include "Independent Expenditures" such as the Far-left "New Direction Super PAC" which by itself has put over $220,000 against me. My opponents campaign is targeting me with relentless attacks, lies and smears. Unlike my opponent, my campaign all along has been focused on policy and my opponents voting record the past two legislative sessions.
My opponent has repeatedly advocated and voted for state government mandated comprehensive sex-ed being taught to very young children beginning in kindergarten (Informed Parents of Washington). And in the 2020 legislative session is the individual who made the motion to move ESSB 5395, the K-12 Comprehensive Sex Education bill, out of committee (CSE Curriculum). This is not the right approach. I want to empower parents where and how their children are educated, emphasizing School Choice at the local levels.
Also my opponent missed 48 votes in the 2019 legislative session, and he missed 104 votes in the 2020 legislative session. Yet my opponent had time to vote for 11 tax increases over the past two years, including B & O Taxes, Real Estate Taxes and Gas Taxes. Once elected I won't miss votes and will be working to reduce taxes and regulations.
Additionally, my opponent voted for several "Title Only Bills", this is disrespectful to our district and the state's constituents. Title Only Bills (AKA Ghost Bills) are Democrat bills originally submitted without any actual legislative content; then weeks or months later at the last minute full verbiage is added, such as tax increases, etc., then oftentimes passed into law. This dishonest practice stifles public review and political debate. Once elected I will support legislation which seeks to permanently end the use of Title Only Bills. 
If you would like to donate to our campaign it would be much appreciated here. Currently it is 57 (D) to 41 (R) in the WA State House of Representatives and there is simply too much disparity to get anything accomplished. This is a rare opportunity to help defeat a State Legislative Incumbent, and flip a Democrat seat to Republican. See BillBruchforHouse.com.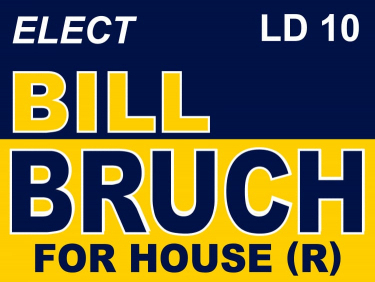 Referendum-90 "CHECK REJECT" to STOP the Comprehensive Sex-ed law (5395) from taking effect! ESSB 5395 is a terrible Democrat imposed law that ignores the needs of both our kids and parents. Vote REJECT Ref-90 to repeal and overturn the K-12 comprehensive sex education mandate. Huge numbers of students are failing math, science, and English. Olympia should prioritize improving literacy and helping students graduate, NOT creating new mandates!   
Reject R-90 to restore local control for parents and local school boards. The new CSE law means unelected, unaccountable bureaucrats, not local communities, will develop statewide sex education standards for students in all public schools. Keep the Olympia activists out of our classrooms. Parents and elected local school boards should be the only people deciding what is taught in our classrooms. More info here and here.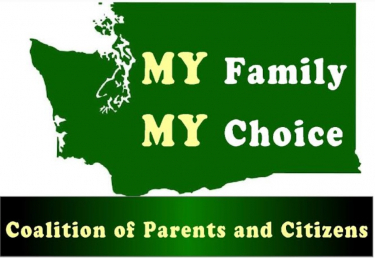 Conservative and Republican censorship is alive and well. State Democrats have set up a system to silence their opposition - plain and simple. Bob Ferguson has aggressively sued Facebook, Twitter, and Google in an effort to stop Republicans from spreading their message across the state. Now, we find out that for several weeks that State Democrats have been running Facebook ads to benefit Ferguson, Inslee, and their fellow Democrats on the ballot in November (more here).
For over seven months now, through constant Covid -19 Emergency Proclamations, Governor Inslee has abused the powers We the People gave him in the existing Emergency Powers Act. He has refused to revoke Proclamations once the emergency it was based on has passed. He has changed the goals of his Proclamations, ensuring they can continue indefinitely. He has favored his preferred businesses over those he dislikes through his definitions of essential business. He has refused to call the Legislature into session so that all representatives have a voice in the state's emergency response. Government by executive Proclamation is contrary to American values. We must Restore the Balance of Power to We the People! Recommended reading: Covid is no longer an emergency.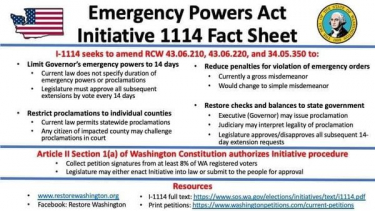 Initiative 1114 limits emergency proclamations issued by the Governor to no longer than 14 days unless extended by a vote of the Legislature. The Legislature may not extend a proclamation through mere letters from leadership, but must vote. No individual extension may exceed 14 days. The Legislature may pass subsequent resolutions of extension, so that the whole of government must concur in the ongoing existence of an emergency proclamation. THE SCRP HAS PETITIONS IN THE MOUNT VERNON OFFICE AT 2021 E. College Way Suite #200 (open Mon - Fri 10 AM to 2 PM), more here.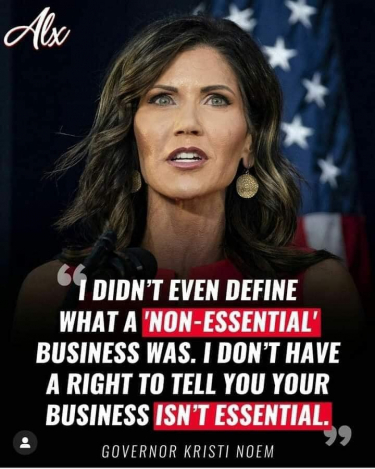 Michigan Supreme Court rules governor's emergency extension unconstitutional. Last week the Michigan Supreme Court denied Gov. Gretchen Whitmer's request to delay the effect of an opinion that ruled her executive orders on the coronavirus pandemic are unconstitutional.
Two weeks prior the Michigan Supreme Court ruled that emergency orders issued by Governor Whitmer after April 30 are unconstitutional. In its decision, the court struck down the Emergency Powers of the Governor Act of 1945 (EPGA) that allowed the governor to declare and sustain a state of emergency without the legislature's backing. 
Since the end of April, the governor has issued over 100 executive orders mandating mask wearing, expanding unemployment and delaying medical procedures, among other things. 
In addition to striking down the 1945 law, the court ruled that the governor DID NOT possess proper authority to declare a "state of emergency" or "state of disaster" under the state's 1976 Emergency Management Act (EMA). According to the EMA, the legislature must be involved in any extension of an emergency past 28 days from the initial declaration.
Report: Seattle police officers' exit interviews site lack of support, 'political agenda. Officers who have decided to retire or work elsewhere during or following the months of civil unrest in the city said their discontent, in part, was a result of leaders' political agendas and calls for law enforcement to be defunded, reported KOMO News, which examined the exit interviews.
"I refuse to work for this socialist city council and their political agenda. This agenda sacrifices the health and well-being of the officers and ultimately will destroy the fabric of this once fine city," explained an outgoing patrol sergeant who had decided to retire after more than two decades with SPD, according to the report (more here).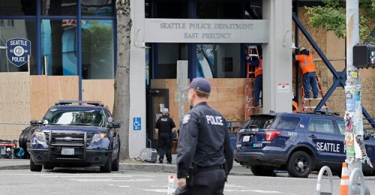 More students failing classes amid distance learning. For so many students across our region, learning from a distance has not been easy – not just for the kids, but also for the parents, teachers and administrators. Case in point: During a school board meeting Tuesday, North Thurston's High School's Principal said nearly half of all his students were getting an 'F' in at least one class. It is a new phenomenon not seen during regular in-person instruction. The principal warned that too many of his kids are failing classes.
Samir Amin, 18, is spending his senior year studying from his bedroom though he wishes he could be back in class at North Thurston High School in Lacey. His role in student government student means he is also advising underclassmen and he has seen how some underclassmen exhibit a sense of disconnect. "What I notice," he said, "The freshmen aren't getting that social interaction, online is showing the deeper divide of students." Article here.
As of today in Skagit County there have been 104 related Covid-19 hospitalized and 23 Covid-19 related deaths (at least 17 of the 23 Covid deaths were in Nursing Homes). There has been one Covid related death in our county since August 12th. Yet we are stuck in "Inslee's Phase 2."
The Senate Judiciary Committee approved Judge Amy Coney Barrett's nomination to the Supreme Court on Thursday morning, on party lines. Democrats on the committee boycotted the vote and their elected duties, and put cardboard pictures in their seats, but could not prevent Judge Barrett from being confirmed by the committee. The stunt pulled by the committee's Democratic members allowed Judge Barrett's to be approved unanimously.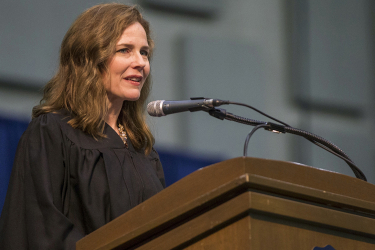 Senate Judiciary Chairman Lindsey Graham praised Judge Barrett's exemplary qualifications, and glowing endorsements from colleagues, peers and the American Bar Association (ABA). Sen. Graham pointed out that Senate Democrats allowed Judge Barrett's swift confirmation to be possible, by changing Senate threshold rules in 2013. Leader McConnell teed up the full vote on Judge Barrett for Monday, in what is expected to be an easy confirmation. 
New Judicial Watch Study Finds 353 U.S. Counties in 29 States with Voter Registration Rates Exceeding 100%: Judicial Watch announced a September 2020 study revealed that 353 U.S. counties had 1.8 million more registered voters than eligible voting-age citizens. In other words, the registration rates of those counties exceeded 100% of eligible voters. The study found eight states showing state-wide registration rates exceeding 100%: Alaska, Colorado, Maine, Maryland, Michigan, New Jersey, Rhode Island, and Vermont.
The September 2020 study collected the most recent registration data posted online by the states themselves. This data was then compared to the Census Bureau's most recent five-year population estimates, gathered by the American Community Survey (ACS) from 2014 through 2018. ACS surveys are sent to 3.5 million addresses each month, and its five-year estimates are considered to be the most reliable estimates outside of the decennial census. 
Washington counties include: Garfield County (119%); Pend Oreille County (112%); Jefferson County (111%); San Juan County (108%); Wahkiakum County (108%); Stevens County (103%); Pacific County (103%); Clark County (102%); Island County (102%); Klickitat County (102%); Thurston County (102%); Lincoln County (101%); Whatcom County (100%); Asotin County (100%).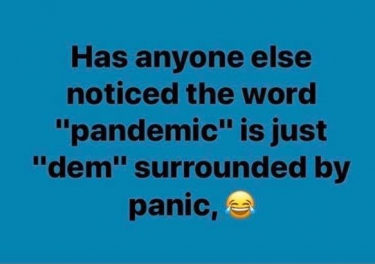 Yelp, which publishes reviews about businesses, has a new policy; they will now display a Public Attention Alert, "If someone associated with a business was accused or the target of racist behaviors." Most unfortunately Yelps new plan to allow users to label businesses as racists based on merely an accusation, just adds fuel to the fire of politically motivated lies, smears and slander. Get ready for more libel lawsuits.
A rally called to promote free speech and denounce big tech censorship on Saturday in San Francisco turned to violence when hundreds of Antifa counter-protesters showed up and berated and attacked rally demonstrators, leaving one missing a tooth. The conservative group Team Save America organized the event to protest Twitter, which it argues censors free speech. The event quickly devolved into a shouting match and violence as hundreds of counter-protesters stormed the scene More here.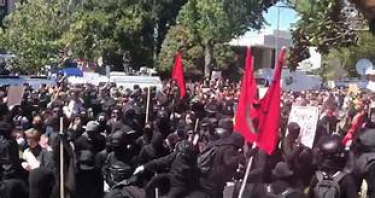 France vows to stop Islamist extremism after beheading. French authorities vowed to crack down on civic groups they said were promoting radical Islam, days after an extremist beheaded a schoolteacher for showing caricatures of the Prophet Muhammad in class. French Interior Minister Gerald Darmanin on Monday said that 51 associations, including religious schools and mosques, would be visited by security services this week, and a number of them dissolved.
Texas leads the US in early voter turnout. As of Tuesday more Texans have cast their ballots for the upcoming presidential election than the total number of people in the state who voted for then-Republican presidential nominee Donald Trump in 2016. That's about 4.7 million people who have voted ahead of Election Day, according to the US Elections Project, just over the 4.68 million votes previously cast for Trump, who won the state by 9 percentage points in 2016.
Florida breaks early voting record with 350K ballots cast. At least 350,000 ballots were cast in Florida during the first day of early voting there Monday, shattering the states in-person opening day record, according to Politico. Vote-by-mail in the state has already seen massive turnout, with more than 2.5 million ballots collected heading into the first day of early voting. 
This week President Trump spoke at several large rallies including: Carson City Nevada, Prescott AZ, Tuscon AZ, Erie Pennsylvania, and Gassinia North Carolina. Trump praised several Republican governors including AZ governor Doug Ducey for opening up his state.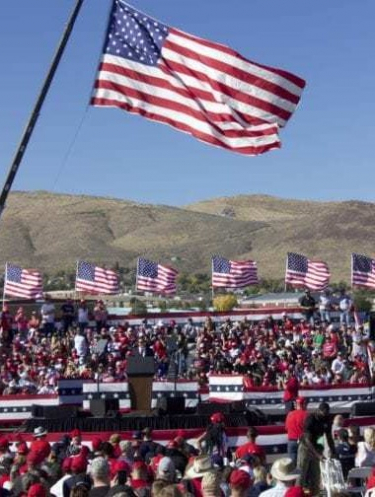 In Carson City law enforcement officials estimated there were 13,000 people who turned out to attend, which comes just a few weeks after Trump held similarly large rallies in Minden and in Henderson NV. Most rally goers for the events did not wear masks. Trump's swing out west over the weekend included a visit to a Las Vegas church whose leaders have long been supportive of him and a fundraising stop in Newport Beach. Trump said he was hopeful that next year "will be the greatest economic year in the history of our country." 
Last night the Loren Culp for Governor Campaign was in Kennewick for another large Peaceful Protest Rally and this weekend Culp will be in Camas for more Victory Protests. More information see culpforgoverrnor.com.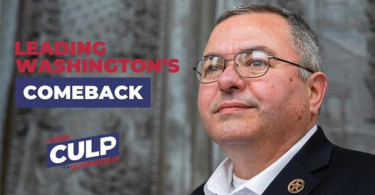 Tomorrow Saturday, October 24 from 4 pm to 5 pm there will be a Republican sign waving event in downtown Mt. Vernon at the Skagit County Courthouse located at 205 West Kincaid Street (Map). You can pick up signs today at the SCRP Mt. Vernon office until 2 PM. We are located at 2021 E. College Way, Suite # 200 (Map). More info (360) 424-4140.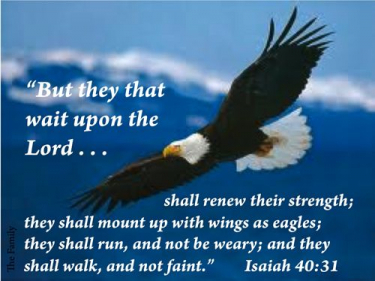 Respect and Blessings,
Bill Bruch, SCRP Chairman
Share This Post...