Leading Washington's Comeback!


The 2022 Republican Action Conference will be held Friday, June 3 and Saturday, June 4. 
We are excited to invite you and all Republican PCOs to join us at the 2022 Republican Action Conference in Wenatchee, WA  from June 3rd - 4th. At this Link: REGISTER NOW
This is going to be the biggest Republican event of the year in Washington State as we train and build our grassroots movement for victory in the 2022 midterm elections - come learn from top notch experts during Friday workshops and trainings, join us for a fun evening at our Friday Night Banquet, and then join us for a HUGE Saturday RALLY with top national Republican speakers and our great Republican candidates!

You are not going to want to miss out on this Republican weekend - so check out the details, register TODAY and join us as we work to take back our state from the Democrats! EVENT REGISTRATION PAGE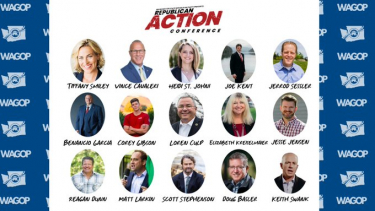 Help us pack the arena in Wenatchee! Register for our candidate RALLY Saturday, June 4th – only $5! For more info contact SCRP Chairman Bill Bruch chair@skagitgop.org / (360) 820-1700.
Share This Post...