On this, the 19th anniversary of the 9/11 terror attacks, we remember and honor our brave first responders, including all law enforcement officers who put their lives on the line every day to help protect us and keep us safe. Thank you for your selfless service!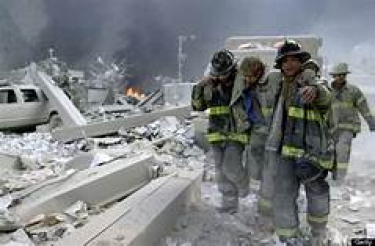 The ballots for the November General election go out in just over one month. This election will be the nations most important, it is a very clear choice, America vs Socialism. For Washington state voters it will be a great opportunity to end the decades of one-party Democrat control in the Governor's mansion that has existed since the 1980's, as well as to overhaul our state government and vote Republicans in for statewide and legislative offices.
The Loren Culp for Governor campaign has two Victory Rally Protest events tonight and Saturday from 6:30 PM – 9:30 PM in Yelm at 1124 Shaw Rd SE. If you need any campaign yard signs our SCRP office is open from 10 am to 2 pm Mon - Fri at 2021 E. College Way Suite #200.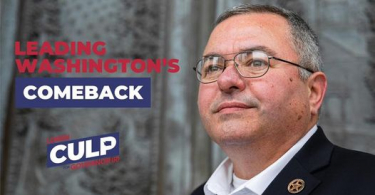 In our state violent crime has reached unsustainable levels—Vote Matt Larkin for AG to put a stop to the lawlessness & restore safety and sanity!
IMPORTANT: Please Remind your friends to Write-In Joshua Freed on the General Election ballot for Lieutenant Governor!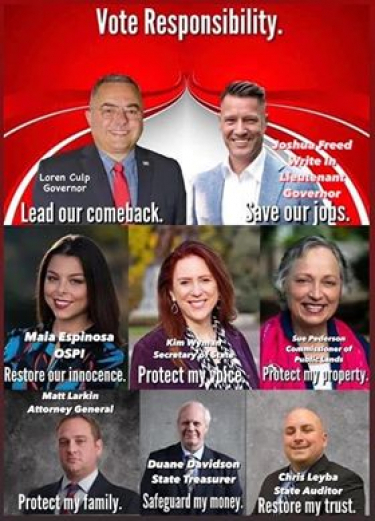 REMEMBER "CHECK REJECT" This November When You See R-90 to STOP the Comprehensive Sex Ed Law (5395) From Taking Effect!
ESSB 5395 is a terrible Democrat imposed law that ignores the needs of both our kids and parents. Vote REJECT Ref-90 to repeal it. Reject Referendum 90. Overturn the K-12 comprehensive sex education mandate. Huge numbers of students are failing math, science, and English. Olympia should prioritize improving literacy and helping students graduate, not creating a new mandate.   
Reject Referendum 90. Restore local control for parents and local school boards. The new CSE law means unelected, unaccountable bureaucrats, not local communities, will develop statewide sex education standards for students in all public schools.
Reject Referendum 90. Stop the early sexualization of our kids. Materials to meet the new state standards will include graphic sexual subject matter. These are decisions that should be left to parents and local communities.
Reject Referendum 90. A costly mandate at a time when school budgets are being cut. State and local budgets are facing massive deficits which threaten funding for basic programs. 
Keep the Olympia activists out of our classrooms. Parents and elected local school boards should be the only people deciding what is taught in our classrooms. More info here and here.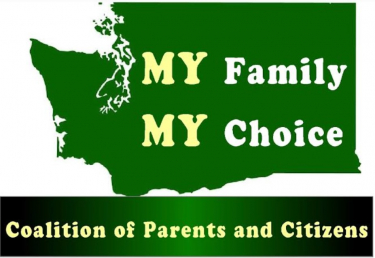 If over 600 million taxpayer dollars sent to Nigerian Fraudsters was not bad enough, there are more problems for the Wa State Employment Security Department. The Unemployment Law Project, a nonprofit that is suing ESD over the months it is taking to get benefits to people, estimates that 35,000 people are waiting to get an appeal hearing after having their unemployment claims denied. Andra Kranzler, an attorney at Sheridan Law Firm who is working with the Unemployment Law Project to represent Washingtonians waiting on unemployment benefits, said it can take months for a person appealing a denial to even get a hearing date and unemployed Washingtonians are still waiting for answers, some were even told to send money back.
"The failure of ESD to exercise its discretion and to follow the law continues to wreak havoc on workers. … ESD continues to treat people as numbers — and they're people," she said.
She added that the 20,000 figure from ESD to account for people still waiting for their claims to be addressed is also likely higher, because this number does not include people who had been receiving benefits and stopped getting them due to ID issues after the department accidentally paid over $550 million to fraudsters.
"They're saying, basically, 'Oh, if you ever received a payment, your issue has been resolved' — whether or not it's still pending. They're not being transparent," Kranzler said. "And they're manipulating the numbers because [ESD Commissioner] Suzi LeVine doesn't want to lose her job. It's in her best interest to make the claimants look incompetent; it's in her best interest to put the blame on the claimants." LeVine (former O'Bama bundler) should have been fired months ago, but of course Jay Inslee who appointed Lavine in the first place, would never allow that to happen.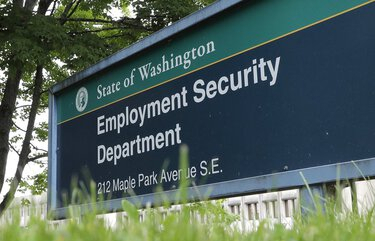 A whistleblower reported that one of the top officials, Judy Fitzgerald at WA State Department of Social and Health Services (DSHS) violated state nepotism laws by hiring her nephew for a job writing and reviewing proposals that was never posted publicly; then appointing her daughter to a analyst position under her supervision. Also Fitzgerald's son also worked in the agency.
While state law bans nepotism in public service, Fitzgerald has wide authority to appoint employees.
But the Washington state Auditor, following the whistleblowers complaint, found that Fitzgerald crossed the line. While DSHS's definition of a relative doesn't include a nephew, Fitzgerald violated state law and department policy during the daughter's hiring, the auditor found.
The investigation also found that other employees swapped Fitzgerald's signature from her daughter's appointment letter for another administrator's, after their familial connection was discovered internally, and that Fitzgerald hiring her daughter and nephew contributed to overspending by DSHS's budget office.
Nursing home administrators and advocacy groups across Washington state are accusing state Office of Financial Management (OFM) officials of withholding federal dollars allocated by Congress and "pocketing the money" and knowingly putting many skilled nursing facilities in an impossible financial situation.
The money allocated by congress was for the purpose of Washington State Nursing Homes to help them care for their residents in the time of Covid-19. Instead the state slashed the $29 per day allotment to $5 per day beginning in July, keeping the $24 per day difference, even as Congress extended the state of emergency funding.
At issue is emergency funding authorized by Congress to help Medicaid-funded programs in every state. The Families First Coronavirus Response Act provided for a 6.2% increase in all Medicaid programs. In Washington, the Department of Social and Health Services (DSHS) calculated the nursing facility portion of the money: $42 million from January to June, which would support an increase of $29 per day for all Medicaid-funded residents.
Costs inside nursing homes have skyrocketed because of government's response to Covid with new expenditures associated with mandated protective gear, testing and increased staffing needs. In addition, most facilities cannot admit new residents or patients because of coronavirus restrictions.
"This is unconscionable. They are taking the position that cutting funding for those on the front lines is somehow acceptable if it is explained away as 'belt-tightening.' They are saying that we can respond to the pandemic and protect our most vulnerable on $5 a day," said Robin Dale, president and CEO of the Tumwater-based advocacy group Washington Health Care Association.
Alyssa Odegaard, vice president of public policy for LeadingAge Washington, which represents nonprofit long term care organizations in the state, said "the pandemic is costing nursing homes an average increase of $50 per person, per day."
"With increased costs, an inability to admit residents and the recent cut from the state, Odegaard said, some of their member organizations worry they'll be forced to close their doors. It was mind-blowing. We know this virus disproportionately impacts those living in congregate care settings - skilled nursing facilities and other long-term care (options). They need the support right now from our state and so, how you could then take the money that's going to care for them during this emergency; it's hard to even understand what the logic behind that was."
I-1114 limits emergency proclamations issued by the Governor to no longer than 14 days unless extended by a vote of the Legislature. The Legislature may not extend a proclamation through mere letters from leadership, but must vote. No individual extension may exceed fourteen days. The Legislature may pass subsequent resolutions of extension, so that the whole of government must concur in the ongoing existence of an emergency proclamation. Questions Email: I-1114@restorewashington.org. THE SCRP HAS PETITIONS IN THE MOUNT VERNON OFFICE AT 2021 E. College Way Suite #200 (we are open Mon - Fri 10 AM to 2 PM).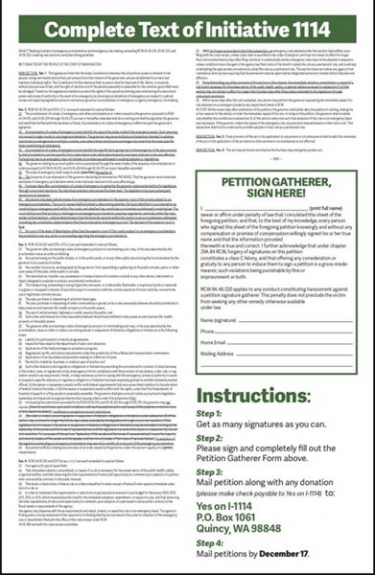 As government agencies look at ways to fast-track the deployment of a Wuhan coronavirus vaccine, many voices have come out warning against the dangers of doing so. Albert Bourla, chairman and chief executive officer of Pfizer has warned of the damage that pushing a vaccine before testing its guaranteed to be safe may cause the reputation of the pharmaceutical industry.
"Pfizer last year had its 170th anniversary. It's a long institution and I don't plan to reduce its reputation in a year or two," he said.
Bourla acknowledged that people were skeptical about vaccines. "They are skeptical because there's so much politicized science right now," he said in a press conference of the International Federation of Pharmaceutical Manufacturers and Associations. "This is the worst situation for society." More info here.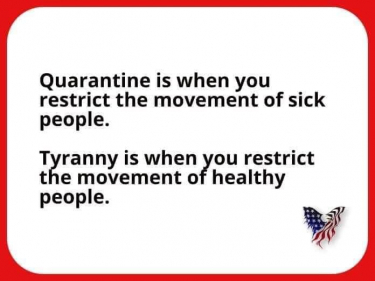 The American Association of Physicians and Surgeons contends the Food and Drug Administration cares more about its power over drug stockpiles than the lives of Americans.
The AAPS has sued the FDA for withholding from its Strategic National Stockpile supplies of hydroxychloroquine, a drug that many studies show reduces the impact of coronavirus.
"Defendants are more about their power over the HCQ Stockpile than the lives being lost daily without access to it: 'the injunction plaintiff seeks would irreversibly overturn the status quo, by compelling the government to disburse the hydroxychloroquine in the Stockpile—a step that, once taken, cannot be undone," the AAPS is arguing in its latest court filing in the case.
The group said "it is the loss of life that 'cannot be undone."
In its court filing, the AAPS said the FDA holds 60 million doses of HCQ donated for the purpose of treating COVID-19 patients. Experts such as Yale Professor Dr. Havey Risch believe the release of HCQ could save 50,000 to 100,000 lives.
The case began when the agency denied a request for the use of the drug after a clinical trial showed it to be effective. Further, the drug has been approved as safe by the FDA since 1955 and the CDC officially declared it is safe today.
"The FDA continues to obstruct the use of a long-established antimicrobial that can also be used in outpatients, to prevent the need for hospitalization," said the organization's executive director, Dr. Jane Orient.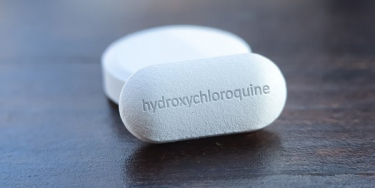 The European Journal of Internal Medicine latest findings says use of hydroxychloroquine (HCQ) was associated with a 30% lower risk of death in Covid -19 hospitalized patients.
They tested 3,451 Covid-19 patients, 76.3% received HCQ. Death rates (per 1,000 person-days) for patients receiving or not HCQ were 8.9 and 15.7, respectively. After adjustment for propensity scores, they found 30% lower risk of death in patients receiving HCQ. Secondary analyses yielded similar results. See study here.
Dr Ted Noel, an anesthesiologist with 36 years of experience, recently uploaded a video contrasting the mainstream media narrative that face masks are the ultimate solution to protecting oneself from spreading or catching the coronavirus.
Doctor Noel demonstrated the ability for aerosol particles to get through a number of face masks by using a vape. These included medical face masks, cloth masks, and guard masks which have a "high efficiency filter material."
The vape aerosol, which has the same size or larger particles as coronavirus, easily went around the sides, bottom, and tops of the masks that Noel displayed. "The fact is that unless I have a mask which is fully sealed, and where I breath through the filter material both directions, and I have really high quality filter, nothing is going to protect in either direction, because just the same way that the vape went out, around, and through, it will come in, around, and through. Aerosols will not be stopped by masks." Noel argued.
Portland Oregon has now seen 105 consecutive days of violent protests by Antifa and BLM anarchists. Last Saturday Molotov cocktails were thrown Portland, Ore., prompting yet another night of unrest in the city to be declared a riot, Police posted on Twitter that the crowd near Ventura Park – about 10 miles east of downtown -- was "engaging in tumultuous and violent conduct thereby intentionally or recklessly creating a grave risk of causing public alarm. More info and video here.
Seattle Police Department officers made multiple arrests after a Labor Day Antifa demonstration outside the Seattle Police Officers Guild office building turned into a riot, with some in the crowd throwing projectiles and Molotov cocktails at officers. Approximately 250 protesters marched on the SPOG office building in Seattle and attempted to fire bomb the building.  All of the action was caught on SPOG's surveillance cameras. Video.
22 individuals who took part in the rioting were arrested, with charges ranging from arson, assault, obstructing, and failure to disperse. A box full of extra Molotov cocktails was recovered after it was dropped by its carrier when the officers moved in to make arrests. Video here.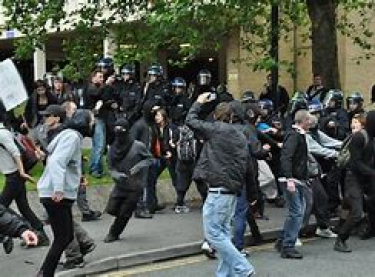 Yesterday the State Patrol arrested a Puyallup man who had started a fire along State Route 167 as he was live streaming on Facebook the fire he had just started. According to one report the guy was associated with Antifa and is already out on a $1,000 bail. He may not be alone in his pursuit of the "mostly peaceful" revolution, which seems obsessed with arson as a "mostly peaceful" tactic of their movement. It appears that a distressing number of these fires are not accidents, and willful arson is the cause. In Omak firefighters worked overnight to strengthen containment lines on the Cold Springs Fire, which had burned across 190,000 acres of land. The fire is being investigated as a possible arson and one arrest has been made for possible homicide. And in Canby, Oregon there are reports that 6 Antifa members were arrested after staring fires and breaking into homes. Who are these arsonists, and is it an organized effort? More info see  We the Governed article here.
While Antifa was rioting in the city a planned Christian prayer rally in Seattle was closed by "godless politicians" rally organizer Sean Feucht told "Fox & Friends" Tuesday (video). But that didn't stop the Christian group from holding the "Let Us Worship Rally "on Labor Day. Seattle Parks and Recreation said the park was closed beginning Sunday night "due to anticipated crowding that could impact the public health of residents."
"It's so wild, because yesterday, they had on 4th Avenue in Seattle, they had Antifa rioters throwing Molotov cocktails at policemen, and yet the city focused their energy on our peaceful worship and prayer rally in Gas Works Park," the California-based pastor explained.
The park was barricaded with fences put up around it, which Feucht said was to block them from gathering to worship and noting that "tax dollars were wasted" by city officials amid the left-wing Antifa demonstrations.
"It was obviously a targeting and discrimination towards believers in the city," Feucht told co-host Ainsley Earhardt. "There's just a bias," he added. "You know, it's the height of hypocrisy right now that they're letting these cities, succumb to rioting and burning and pillaging and yet they're targeting Christians."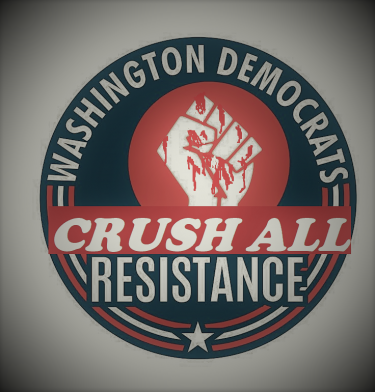 Senator Ted Cruz condemned Facebook's decision to ban new political ads in the week before the 2020 elections, arguing that doing so would impact votes by blocking communications from candidates. "Facebook's decision to ban new political ads in the week leading up to Election Day is just the latest example of Big Tech's repeated attempts to manipulate Americans' votes, Blocking the publishing of new ads in the final week of the election will prevent candidates from making their case to voters at a critical time and could impact how people vote at the polls." Cruz said.
The Portland Police Bureau criticized Democrat Mayor Ted Wheeler, who serves as the city's police commissioner, after he announced officers will no longer be able to use tear gas to stop the nightly riots that have been occurring for over 105 days.
In a statement released after Wheeler's announcement, the Portland Police Bureau said since late May, "Portland Police and partner agencies have been subjected to repeated violence by a group of motivated and well-organized individuals. These individuals have stated they intend to kill or injure officers and destroy occupied buildings and dwellings. Threats to commit acts of violence have been scrawled on police facilities and other property. Crowds have chanted slogans about burning down buildings on their way to attempt to do that."
The PPB pointed to how rioters have set fires to multiple buildings around the city in an attempt to burn them down. The PPB said CS gas is used to disperse crowds in order to prevent loss of life:
For months Democrats and their allies in the media have claimed Black Lives Matter protests in cities across the country have been "mostly peaceful." Recently, CNN ran a chyron that stated "fiery but mostly peaceful" as a building in Kenosha, Wisconsin burned to the ground. 
But contrary to the narrative and according to a new study from Princeton University, over the past four months hundreds of BLM "protests" have turned into violent, destructive riots. Princeton's report revealed that nearly 570 violent demonstrations--riots--in nearly 220 locations spread all across country. Report here.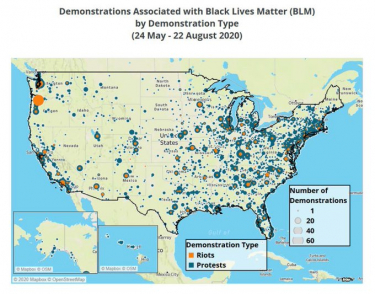 President Donald Trump hosted another protest rally on Tuesday, September 8. This one was in Winston-Salem, North Carolina. Local media said an estimated 10,000 people attended the event itself, and there were also several thousand in an overflow space outside. Trump promised the crowd that he would help to open the state if he is re-elected and said "If I am re-elected, the best is yet to come." Video.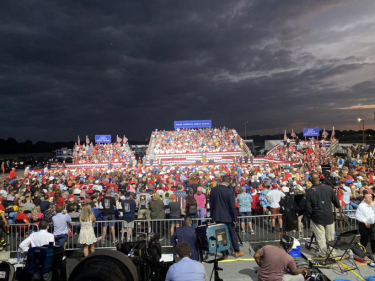 Trump told the audience that he has decided to call the rallies "peaceful protests," and said that it is partly because of North Carolina's maximum capacity Covid mandates.

Trump said "Because they have rules in these Democrat-run states that if you campaign you cannot have more than five people. You can't go to church, you can't do anything outside. If you are willing to riot, running down the main street, if you want to riot and stand on top of each other's face and do whatever the hell you want to do, you are allowed to do that because you are considered a peaceful protester."
Just weeks after helping to broker peace between Israel and the United Arab Emirates (UAE), President Trump has been nominated for the 2021 Nobel Peace Prize.
The nomination submitted by Christian Tybring-Gjedde, a member of the Norwegian Parliament, lauded Trump for his efforts toward resolving protracted conflicts worldwide.
"For his merit, I think he has done more trying to create peace between nations than most other Peace Prize nominees," Tybring-Gjedde, a four-term member of Parliament who also serves as chairman of the Norwegian delegation to the NATO Parliamentary Assembly, told Fox News in an exclusive interview (video).
Tybring-Gjedde, in his nomination letter to the Nobel Committee, said The Trump administration has played a key role in the establishment of relations between Israel and the UAE. "As it is expected other Middle Eastern countries will follow in the footsteps of the UAE, this agreement could be a game changer that will turn the Middle East into a region of cooperation and prosperity."
After Senate Republicans crafted a targeted, $300 billion Covid relief package, Democrats blocked the legislation. They blocked money for schools, testing, vaccines, unemployment insurance, and the Paycheck Protection Program. Their goal is clear: No help for American families before the election.Democrats continually block relief packages that do not include their list of unrelated line items, at the expense of the American people, to score political points in an election year. 
On Sunday, September 13th from noon to 2 PM in La Conner there will be an Elect Bill Bruch for State House Meet & Greet. Outdoor venue and lunch provided! To RSVP call (360) 421- 2269. For more information on the campaign see BillBruchforHouse.com.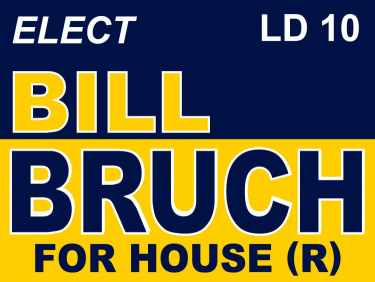 Tens of Thousands of Trump supporters participated in dozens of 'Great American Boat Parade' events over Labor Day Weekend. In San Diego alone, thousands participated on Sunday, video here.
The boating events have been happening on the weekends since late spring and are meant to draw excitement for the November election. Over Labor day Great American Boat Parades were held in California, Lousiina, Georgia, Washington D.C. among many other locations.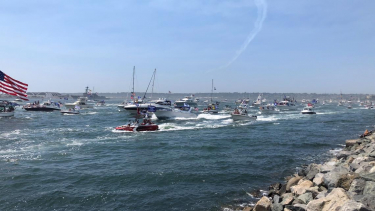 SCHOOL BOARD VACANCY: The Conway School District is seeking applications to fill a vacancy on its school board. Board Member Thom Sicklesteel is stepping down after 17 years of service to the district. An applicant is needed to serve the remainder of Sicklesteel's term — through November 2021.
Anyone wishing to serve beyond November 2021 will need to file their intent to run for election with the Skagit County Auditor in May 2021. All Conway School Board positions are at-large positions, meaning applicants can live anywhere within the school district boundaries.
Applications will be taken until Sept. 25. The remaining four board members will interview applicants at the regular board meeting in October and select someone to fill the position. To apply, visit the district's website at conway.k12.wa.us/district/school_board.
A Big Thank You to the Stanwood Turning Point USA chapter that hosted a fabulous Hawaiian Luau themed candidate forum last Friday evening on Camano Island. About 75 people showed up to meet and listen to State LD 10 and Island County Commissioner Candidates. It was a great event and all had a good time!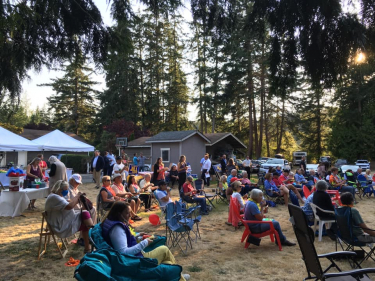 Thanks to everyone who came out on Labor Day for the Peaceful Rally in Anacortes to salute President Trump and acknowledge his administrations many successes. About 80 people turned out to flag wave, sign wave, and celebrate our Presidents many accomplishments, such as appointing 200 conservative US Circuit Court Judges, appointing Kavanaugh and Gorsuch to the Supreme Court, cutting taxes, having lowered the unemployment rate to the lowest numbers in (50) years (historic lows for woman, blacks and Hispanics), getting us out of the Iran deal, eliminating ISIS, being the most Pro Life president in American history, cutting more regulations than any American president since Lincoln, moving the U.S. Embassy to Jerusalem, building the wall and keeping his other many promises! 
OF NOTE: On September 9 the Skagit Valley Herald wrote a very unfair article about or SCRP Lincoln / Reagan Day Gala Peaceful Protest; for the record here is my public response.
September 10, 2020
Dear SVH, this letter is in response to your very unfair "hit piece" article that was published in your newspaper yesterday regarding our SCRP Aug 29th event. Just an FYI, the governor's edicts are not laws and there are pending lawsuits saying Inslee's mandates are unconstitutional (violating the State Constitution Article 1 Sec 1, 2, 3, 4, 5, 7, and 11 and the U.S. Constitution 1st, 5th and 14th amendments). 
Of Note: Our event was a "Peaceful Protest" and began with a several minute long prayer. Many of the speakers spoke against governor Inslee and his covid mandates. It was an open air event during the day. Everyone had to have a mandatory temperature check before they were allowed to register. There were masks available to everyone that needed one or requested one. There were two large airplane hangers (with hanger doors open) that encompassed 23,000 sq feet of covered space for the approximate 410 people (better ratio than any Walmart or Costco). The caterer's servers wore masks and gloves and served all the food from behind a glass partition (just like in restaurants). We had social distancing tables of 6 (just like restaurants). 
Also of Importance: We could have easily sold another 100 tickets, but capped the event and officially "Sold Out" the event three days early to keep the size of the crowd down to about 410 (most of the complaints were people who wanted a ticket but could not buy one because they waited too long). Everyone who attended had a great time and we have received many, many thanks for having the event.
It is also important to note that the Republican Governor Candidate Loren Culp, for several months now, has been consistently having rallies all across Washington state, attended by several hundred and in many cases over 1,000 attendees per event. And there have not been any covid related issues. 
With all due respect to the liberal narrative regarding Covid-19, there are literally thousands of doctors around the country and around the world that are saying wearing masks, sheltering in place, etc. is the exact opposite of what we should be doing as a society to eliminate Covid-19. The science, data and doctors are telling us that this is an influenza type of virus and we need to build up a herd immunity to the disease to eradicate it, and mandating healthy people to wear masks and social distancing is not necessarily the best approach. Also it is time to get the children back in school. Kids under 18 YO are 3 - 17 times less likely getting Covid-19 than they are of getting a normal flu. The members of our county party wholeheartedly agree with this point of view and side with thousands of doctors and the true data and science about Covid-19. 
Since April I have been tracking and writing about the coronavirus on a consistent basis in my weekly Chairman's Corner newsletter which your readers can find at skagitrepubicans.com. The people need all of the facts regarding Covid-19, i.e. most all the covid related deaths are people over age 70 who had pre-existing health conditions. It is very interesting to note that in March the Washington State Department of Health took away the 70 - 79 year old category on their website and replaced the category with a 60 - 79 year old category to further their narrative.
Also the death rates are very skewed as people are not necessarily dying from covid, they are dying "with covid," which is what is being put on death certificates. In Skagit county and overall in Washington state the majority of covid related deaths have occurred in long term care and assisted living facilities (In Skagit 17 of 22 covid related deaths and statewide over 60%), and many covid cases are people who are asymptomatic. 
The collateral impacts of shutting down the economy with our governors proclamations is far worse than the virus itself, as suicide rates have increased over 600%, drug and alcohol abuse and cases of depression are on the rise, etc. We need to have a healthy respect for the virus and need to be smart and use common sense as with any serious flu. But we need to also have a healthy respect for families and businesses that have suffered way too much under governor Inslee's edicts. 
It is time for Inslee to end the emergency and lift the mandates, now. Not after the election. But most unfortunately we now know Inslee' s agenda is to "use this crisis to peddle a solution to climate change that will allow us to rebuild our economy and jump start it in a more green manner", which is what exactly Inslee said in an interview with Bernie Sanders on May 13.. 
Perhaps this is one of the many reasons why Jay Inslee is refusing to debate Loren Culp.
Respectfully,
Bill Bruch, SCRP Chairman
OF NOTE: On August 28 at the Al Sharpton "Get Off Our Necks Rally" an estimated 50,000 people marched and gathered in front of the Lincoln Memorial in Washington D.C., many wearing Black Lives Matter T-shirts, as speakers demanded racial equality. But you won't hear any Democrat bias media upset about about no social distancing or people not being subject to contract tracing. After all, this event was essential...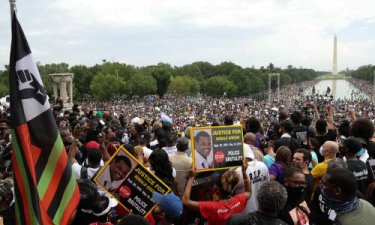 Respect and Blessings,
Bill Bruch, SCRP Chairman
Share This Post...