The Skagit County Republican Party has moved our office to Burlington! Our new location is on Burlington Blvd (next to Skagit Auto Licensing), in the Burlington Plaza Building, just a few blocks from Highway 20 and I - 5 -- OFFICE ADDRESS IS: 281 BURLINGTON BLVD SUITE #103 (MAP) -- Feel free to come by and visit, office hours are Mon - Fri  10 AM to 2 PM.
Congratulations to the three winners of the SCRP Youth Essay Writing Contest! The Essay topic was the "Check and Balance" system built into the US Constitution. First place of $250 was awarded to 15 y.o Andrew Milas of Mount Vernon, $100 2nd place went to 17 y.o. Joshua Smelzer of Anacortes and $50 third place went to 16 y.o Connor Barton of Anacortes (their winning essays are on the Skagit Republicans website Blog Page).
Washington Senate Republicans elected their leadership team for the 2021-22 legislative term. The caucus elected Sen. John Braun, R-Centralia, as its new leader and Sen. Ann Rivers, R-La Center, as the new caucus chair. Sen. Shelly Short, R-Addy, was re-elected as Republican floor leader and OUR own SCRP PCO Sen. Keith Wagoner, R-Sedro-Woolley, who now is the new Republican whip. Big Congrats Keith!
New Leader Braun has been vocal against Inslee and lockdown measures saying "Let's trust the citizens of the state of Washington. Let's trust restaurant owners to care about their employees and their customers. Let's trust citizens to make good decisions about whether or not to go out to eat this evening or not." 
"The governor says we will get through this together, but he is arbitrarily, without apparent regard for science or data, leaving behind our restaurants and gyms. He's making these decisions from the comfort of a state salary that hasn't skipped a paycheck during his shutdowns. Why wait another week? Why punish small businesses that have gone to great expense, at a time when they can least afford it, to comply with safety measures by crushing any hope they have of saving their livelihoods? We can prevent further harm by ending these unwarranted and cruel restrictions. The governor should work with, rather than against, these businesses, many of which are family owned. He should trust them to do the right thing."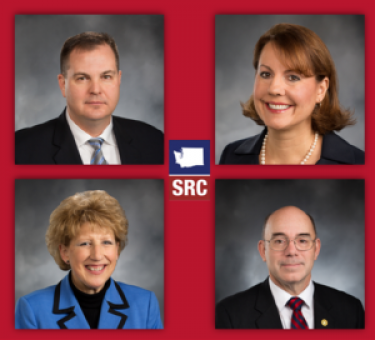 The 2021 state legislative session begins Jan. 11, and will restrict public access to the Capitol as legislative hearings will be conducted remotely via Zoom. Most legislative staff will work from home, most Reps will be barred from the State Capital House and Senate Floor and the legislative offices. Under these circumstances the public will have much less opportunity to influence legislation as face-to-face encounters are being discouraged. THIS IS NOT TRANSPARENCY, 2021 IS A PSEUDO-LEGISLATIVE SESSION!
Additionally, Our Elected State House Reps are planning to hold their swearing-in session at St. Martin's College in Lacey. Our Elected State Senators are being told they must choose their own judge to administer their oath of office on their own. ALL OF THIS directly violates Article 14, Section 1 of the State Constitution. THE LEGISLATURE SHALL HAVE NO POWER TO CHANGE, OR TO LOCATE THE SEAT OF GOVERNMENT OF THIS STATE and SECTION 2 CHANGE OF STATE CAPITAL. When the seat of government shall have been located as herein provided, the location thereof shall not thereafter be changed except by a vote of two-thirds of all the qualified electors of the state voting on that question, at a general election, at which the question of location of the seat of government shall have been submitted by the legislature." 
The 2021 Sham Session also violates State Constitution, Article 1, Section 1 placing ALL political power in the People; and Article 1, Section 4, the right of the people to peaceably assemble shall NEVER be abridged.
The 2021 Legislative Session is illegal because elected officials are violating their oath of office by NOT ABIDING BY THE CONSTITUTION as they cannot legally conduct business anywhere other than the chamber in the capitol. The Zoom Legislative sessions are simply NOT Constitutional! During a legitimate legislative session We The People need to interact with our elected Representatives in person at The Peoples House, in Olympia; anything else is not lawful and unacceptable.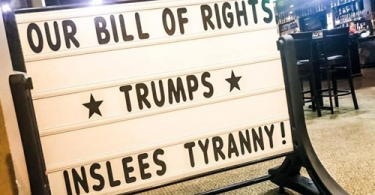 LD 19 State House Rep Jim Walsh says the 2021 Legislative Session will have a question mark or an asterisk. He says "The Zoom legislative session is unconstitutional and fails the people of WA by denying them access to the law-making and budget-writing processes. Online committee hearings will also fail the public. These hearings--where the details of laws and budgets are worked out--also need to be accessible to ALL Washingtonians so that they can watch, testify and even object . In person! The people are finding their voices and pushing against tyrannical edicts that are not based on science or fact and that all political power is inherent in the people."
LD 42 State Senator Doug Ericksen thinks the next legislative session should be limited to crisis-related measures, saying:
 "Our friends on the other side of the aisle are saying this would be an outstanding time to pass an income tax – when the public isn't looking, I think that's one of the worst things we could do. But that's just the start. We're hearing talk of big new environmental regulations, low-carbon fuel standards and higher gas prices, expansion of the Growth Management Act and other topics that have nothing to do with the urgent job before us. That's just wrong. The public needs to be involved in important debates like these. The state's problems are so big they deserve all our attention. Our colleagues can try to turn Washington into a progressive utopia some other year." More here.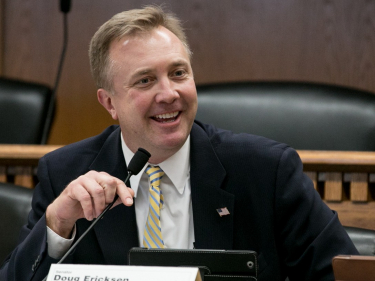 What do the State Majority Democrats what to do in 2021 via Zoom? Among other Draconian measures Inslee and the Dems want to create "Regional Healthcare Districts," combining services across counties. Also create new taxes to put millions of dollars of your state tax money for more Covid PPE, testing supplies, and other Covid related logistic; in essence making Covid its own government bureaucracy. One example to pay for is a new long term funding source, coming from a new tax on health insurance and carriers 3rd party administrators.
Dems want to increase the budget to $57.6 billion over the next two years. Their proposal includes $1.3 billion in new taxes, grows state spending by $5 billion over the current budget, proposes a new income tax on capital gains of 9% on annual investment earnings of $50,000 for a married couple. The capital gains tax would take effect in the second year of the 2021-23 biennium and is expected to raise $3.5 billion in taxes over the next four years.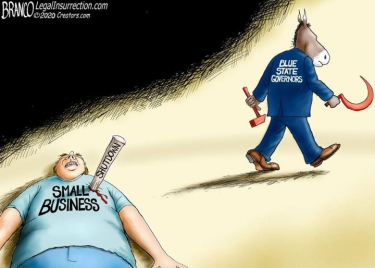 PLEASE REMEMBER A CAPITAL GAINS INCOME TAX IS UNCONSTITUTIONAL: The WA Constitution is clear. Article 7, Section 1: All taxes shall be uniform upon the same class of property within the territorial limits of the authority levying the tax and shall be levied and collected for public purposes only. The word 'property' as used herein shall mean and include everything, whether tangible or intangible, subject to ownership." WA courts have consistently ruled that a person's income is that person's property.
The 2020 Presidential election will go down as the most corrupt and fraudulent US election in history. The numerous legislative hearings in Pennsylvania, Georgia, Michigan, Wisconsin, Arizona and Nevada all have without a doubt have proven this. Also there have been tens of thousands of people with signed affidavits that witnessed voter fraud. PLEASE SEE DAILY UPDATES ON THE Skagitrepublicans.com website Home and Blog pages. The US election was fraudulent in so many ways via Insidious Coordinated Democrat Voter Fraud in the six battleground states -- Summary
NUMBERS DO NOT ADD UP: In the 2020 Presidential Election Biden won 509 US Counties and Trump won 2,547 US Counties. Yet we are to believe that Biden crushed Trump in the Electoral College and the Popular Vote???
Biden won a record low 17% of counties, lost Black & Hispanic support, lost 18 of 19 Bellwether Counties, lost Ohio, Florida, & Iowa — and lost 26 of 27 House "Toss-Up States." 
With 212 Million registered voters and 66.2% voting,140.344 M voted. If Trump got 74 M, that leaves only 66.344 M for Biden. But somehow we are supposed to believe Biden Shattered the Popular Vote record with OVER 81 Million Votes??? Info here and here.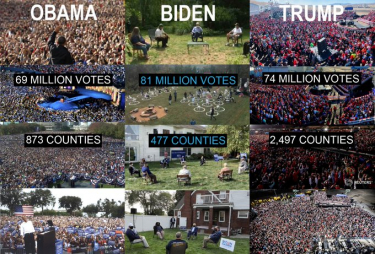 This is very simple math that even Democrats and Democrat Operative Media should be able to understand. The Biden camp clearly committed the most massive election fraud in the history of our country.
MORE EVIDENCE: Georgia: In 2012, Barack Obama won 1,773,827 votes in Georgia. We are now told Biden won 2,473,633 Georgia votes, besting the first black president by a stunning 700,000 votes???
We're asked to believe that Biden outperformed his former boss by 39.45 %, though Biden was soundly defeated in the 2008 Democratic Primary by Obama, when Obama's sole political credentials were that of a Chicago community organizer and Illinois State Senator. Trump Really Won Georgia and garnered 2,461,854 Georgia votes. 
Also New Election Dominion Voting Systems' Data Shows 17,650 Georgia Votes Were Switched From Trump to Biden: More here
Nevada: Obama in 2012 won 531,373 votes from Nevadans, Biden, we are led to believe, won 703,486 such votes, besting his former boss by 172,113 votes—improving Obama's performance by 32.39 percent. Again, Trump, who gathered 669,890 Nevada votes, would have soundly defeated a candidate turning in an Obama-level performance.
Arizona: In 2012, Obama won 1,025,232 votes in Arizona. Yet Biden somehow got 1,672,143 votes from Arizonans, a whopping 63.10 percent improvement over Obama's performance. Once again, Trump, who won 1,661,686 votes from Arizonans, would have handily defeated a candidate turning in an Obama-level performance.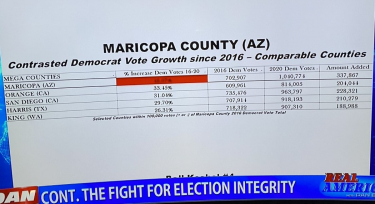 Michigan: In Antrim county the Dominion software somehow experienced an astounding 68.05 percent error rate in electronic tabulation log events. The Election Assistance Commission (originally the Federal Election Commission) allows a maximum error rate of just 0.0008 percent (pdf). That is, the 68.05 percent audited error rate for Dominion software in Antrim County is a staggering 85,000 times the allowable error rate.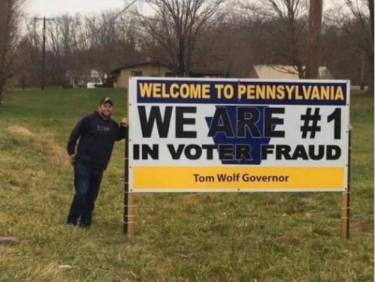 OF NOTE: The forensic report understandably concluded that Dominion software was "intentionally designed with inherent errors to create systemic fraud and influence election results."
REMEMBER TRUMP WAS EASILY WINNING All six swing states still in dispute—Michigan, Pennsylvania, Wisconsin, Georgia, Nevada, and Arizona—as of midnight on Election Day, and all these states stopped counting, then all of a sudden the 6 states experienced a massive "blue-shift" election vote spike of hundreds of thousands of votes in the early morning hours of Nov. 4. VIDEO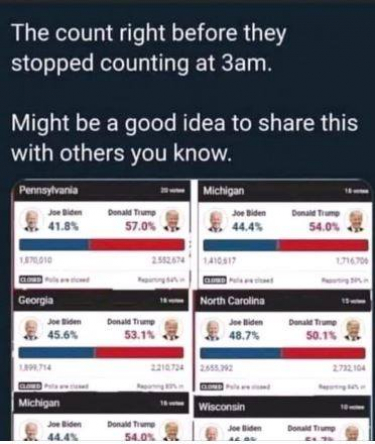 Dr. Peter K. Navarro released one of the best and comprehensive reports on the 2020 Election Voter Fraud which provides an objective assessment obtained through evidence including more than 50 lawsuits around the nation, thousands of affidavits and testimonies, published analyses, media reports, and more. "If these election irregularities are not fully investigated prior to Inauguration Day and thereby effectively allowed to stand, this nation runs the very real risk of never being able to have a fair presidential election again," Navarro said in the report. Audio Here.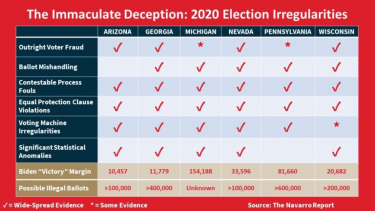 Dueling Electors: On Dec 14 in Arizona, Wisconsin, Georgia, Pennsylvania, Michigan, Nevada and New Mexico a slate of Democratic electors chose Democratic presidential nominee Joe Biden. A slate of Republican electors also cast votes for President Donald Trump.
The phenomenon created seven sets "dueling electors," or alternate slates. Both groups are sending certificates of ascertainment to Congress, which is slated to convene in a joint session on Jan. 6, 2021. PER US CONSTITUTION VP MIKE PENCE (BEING PRESIDENT OF THE SENATE) will count the electoral votes.
Dueling electors are highly unusual, but they have happened in U.S. history. The last time was in the 1960 election, when the governor of Hawaii certified electors for Republican Richard Nixon. Democratic electors cast their votes for Democrat John F. Kennedy. That year Nixon was the VP (President of the Senate) and Hawaii originally awarded the state to Nixon, after a re-count Hawaii Democrat Electors chose Kennedy. Then Kennedy was declared the winner in the joint session in January 1961.
"Under the Constitution, [Pence] has the authority to conduct that proceeding as he sees fit" says TX Rep Louie Gohmert. "He may count elector votes certified by a state's executive, or he can prefer a competing slate of duly qualified electors," Gohmert's attorneys wrote in a brief on New Year's Day. "He may ignore all electors from a certain state. That is the power bestowed upon him by the Constitution. The Constitution's 12th Amendment unequivocally entrusts Pence the rights to determine what electoral votes to count during the Joint Session of Congress on Jan. 6."
Trump announced on Twitter that evidence of alleged election fraud will be presented on Jan. 6 during the Joint Session of Congress. "Massive amounts of evidence will be presented on the 6th. We won, BIG!"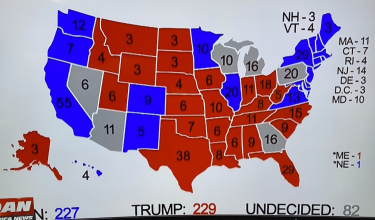 This week MO Senator Josh Hawley said "I cannot vote to certify the electoral college results on January 6 without raising the fact that some states, particularly Pennsylvania, failed to follow their own election laws, at the very least, Congress should investigate allegations of voter fraud and adopt measures to secure the integrity of our elections." 
On Jan 6 Hawley is joining at least 30 other Congressional Reps to protest and debate the electoral college vote submissions from states with such flawed election systems as to render their election results untrustworthy.
Alabama's Mo Brooks has been one of the most outspoken Congressional Reps saying "I find it unfathomable that anyone would acquiesce to election theft and voter fraud because they lack the courage to take a difficult vote on the House or Senate floor," Brooks said in a phone interview. "Last time I checked, that's why we were elected to Congress. Congress has the ultimate say over whether to accept or reject Electoral College votes.
Congress has the absolute right to reject the submitted Electoral College votes of any state, which we believe has such a shoddy election system that you can't trust the election results that those states are submitting to us, that they're suspect. And I'm not going to put my name in support of any state that employs an election system that I don't have confidence in."
If both candidates receive less than 270 electoral votes on Jan. 6, then a contingent election is triggered in which each state's delegation in the U.S. House of Representatives casts one en bloc vote to determine the president, while the vice president is decided by a vote in the U.S. Senate.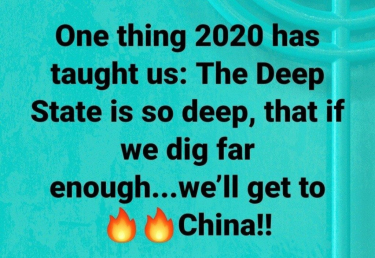 On Jan 2, 2021 11 More GOP Senators to Object to Electoral College Votes. The group includes Sens. Ted Cruz (R-Texas), Ron Johnson (R-Wis.), James Lankford (R-Okla.), Steve Daines (R-Mont.), John Kennedy (R-La.), Marsha Blackburn (R-Tenn.), and Mike Braun (R-Ind.). Sens.-elect Cynthia Lummis (R-Wyo.), Roger Marshall (R-Kan.), Bill Hagerty (R-Tenn.), and Tommy Tuberville (R-Ala.) 
"America is a Republic whose leaders are chosen in democratic elections. Those elections, in turn, must comply with the Constitution and with federal and state law. The 2020 election, however, featured unprecedented allegations of voter fraud, violations, and lax enforcement of election law, and other voting irregularities."
"The allegations of fraud and irregularities in the 2020 election "exceed any in our lifetime," the group added, noting courts, including the Supreme Court, have repeatedly declined to hear evidence of alleged fraud." The group wrote in a joint statement.
Democrat Proposed House Rules Seek to Erase Gendered Terms Such as 'Father, Mother, Son, Daughter'  Leaders in the House of Representatives announced on Friday a rules package for the 117th Congress that includes a proposal to use "gender-inclusive language" and eliminate gendered terms such as "'father, mother, son, daughter," and more.
Speaker Nancy Pelosi (D-Calif.) and Rules Committee Chairman James McGovern (D-Mass.) announced on Friday that the rules package includes changes that would "honor all gender identities by changing pronouns and familial relationships in the House rules to be gender neutral."
A separate announcement from McGovern (pdf) said that the Democratic rules package will make "Changes [to] pronouns and familial relationships in the House rules to be gender neutral or removes references to gender, as appropriate, to ensure we are inclusive of all Members, Delegates, Resident Commissioners and their families—including those who are nonbinary."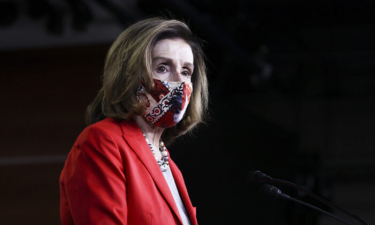 Despite Inslee's order not to, The Black Diamond restaurant in Spokane Valley opened up for dine-in business. Co-owner Brandon Fenton said he couldn't bear to see their employees struggle without any source of income any longer. "We are at that brink, and don't want any government handouts, we just want to be able to open and do our business," Fenton also said he is frustrated with Governor Jay Inslee and his restrictions to close bars and restaurants.
 "We shut down, we did our part as fellow Washingtonians to be safe, to flatten the curve, We were asked to close indoor dining. We complied. We did our part as Washingtonians to help. We were asked to do this for 4 weeks. Even though the science and data did not show that the spread was coming from restaurant and bars. Now that those 4 weeks have gone by and the numbers in Spokane county continue to rise it is fact and science that restaurants are not a cause. Therefore, asking for our industry and the people who depend on it for a living to go another 3 weeks (or more and Inslee has threatened) is immoral and criminal.
SO..The Black Diamond is OPEN for Business. We are now open, Fully, from here on. We do this so that our employees, who are running out of unemployment, can make a living and survive. Our employees are suffering, just as so many others are. Some can't pay their bills. Phones have been shut off, car payments have been missed and rent has not been paid. Some will have to move back home with parents, would you want to do that Jay? Some can not buy Christmas presents for their children. They don't want charity. All they want is to work hard and live their lives.
We ask that anyone who may be sick do what they have always done when sick. Stay home. We also ask that if you are in the high risk category you take the time to contemplate and make the decision for yourself if you would like to come and support us.
We will be using your support to help our staff. We will be giving bonuses to help them with the holiday season and to make up for the lack of support and preparation from Jay Inslee before he cut off their ability to earn a living.
Shame on you Jay Inslee, for restricting and shutting down restaurants before having in place a plan that should have been immediately available for those you made to suffer for your assumptions. Businesses wont even know until the end of December if they will even get the grants you promised. Would you wait over 7 weeks for help that will most likely not even cover half of your expenses? How about you go without pay for half a year?
We ask all businesses that have been restricted by the mandates of a tyrant to stand and open with us. Together we are powerful. We hope that as we follow those that have already stood up for what is right that it will create a spark to light the fire we need to make a difference. Lastly we respect your opinions please respect ours."
Thank You,
The Black Diamond Management Team
Also Koko's Bartini Restaurant and Bar in Kennewick decided to protest Inslee's unconstitutional state mandate prohibiting indoor food and liquor service. They reportedly had one of their best business nights of the year last night for New Year's Eve.
Thanks to Inslee's mandates in WA State All unemployment claims increased 10% during the week of Nov. 29 – Dec. 5 Article here
Lewis County Sheriff Rob Snaza was highly critical of Gov. Jay Inslee's order banning dining at bars and restaurants while also reviving his viral "don't be a sheep" statement on wearing masks. Snaza questioned the science behind closing dining at the establishments, specifically voicing support for Spiffy's Restaurant, which has amassed fines of more than $100,000 for refusing to close its dining room to customers.
Snaza noted that Spiffy's restaurant owner Rod Samuelson has been in business for 50 years and that he has been a customer for more than 30 years. 
"During that time they've been open, they've been open to the community," Snaza said in the video. "They've opened their hearts whether it's donations, whether it's supporting families. And so knowing Rod's story was huge in making the decision that I support Spiffy's. And I know we have laws out there, we have all these things going on, but at the same time, what is right and what is wrong? We need to stand up for our constitutional rights. So when we talk about these people, we're talking about single moms, single parents, or dual-parent income, that both work at a restaurant. And all their livelihood is based on their business. And they're losing that, simply because someone decided to change the rule book. The ban on indoor service and dining has been hurtful to our community," 
"Our economy is being shut down because our governor has elected to determine who is essential and who is not," Snaza said. "And really, who has that? It seems that the people that have the paycheck are the ones that are determining who's a non-essential."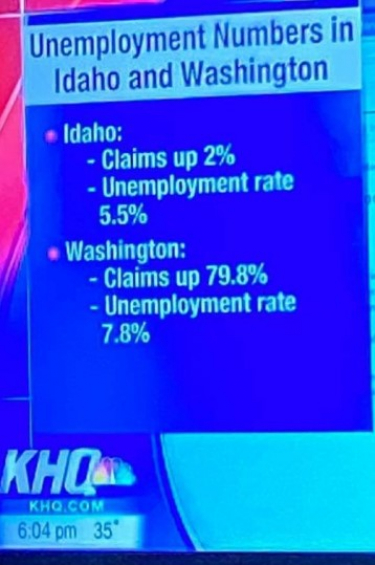 The Culp for Governor Campaign filed a lawsuit in King County Superior Court against the Sec of State asking for Injunctive relief and demand for an audit of the paper ballots, vote counting machines and voting results in many WA State counties including Skagit and Island Counties.
Among other things the campaign is alleging that the SOS exercised malfeasance by not cleaning up the voter rolls allowing over 335,000 people (1,354 in Skagit and 1,494 in Island Counties) that had moved out of state to be mailed ballots. Additionally thousands of ballots were sent out to illegal addresses (PO Boxes, etc, including 196 in Skagit and 360 in Island Counties) and over 7,200 dead people (156 in Skagit and 129 in Island Counties) cast a vote in the 2020 General Election. In the most recent videos released Culp Attorney Stephen Pidgeon explains the issues. More here and here.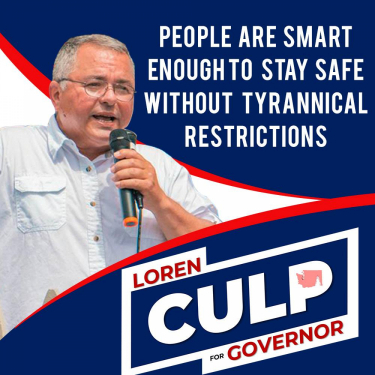 Moreover, recent Skagit County Records Request information shows very troubling and very real voter irregularities in Skagit County. This data was compiled using the most updated public information and census data. Data shows that in Skagit County the population increased by about 9,000 people between 2015 and 2020, however registered voters increased in Skagit County by about 16,000 people (see 2020 reconciliation form). Also, in the 2020 general election there were 5,000 more ballots issued than registered voters in Skagit County. These disturbing voter irregularities correlates with what the legislative hearings have exposed in the 6 battleground states. The "Registered Voter" to "Ballot Issued" disparity starts to increase in 2018 and dramatically leaps in 2020. See graph: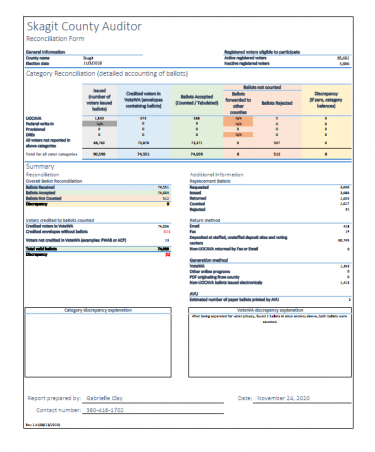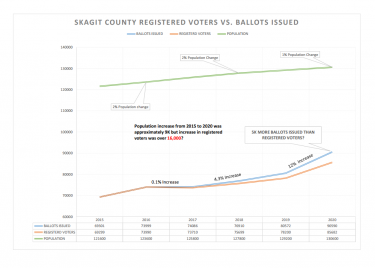 While an audit of the Skagit County 2020 general election results is still ongoing, enough evidence has been gathered and analyzed to know the public is entitled to be informed of some of serious concerns, questions, and irregularities that have been uncovered:
How could more than 5000 ballots be issued than there were registered voters in the 2020 election?
Why were thousands of votes received in drop boxes after election day accepted and counted even though the election was over?
Why did the number of registered voters increase so disproportionally to the County population just before the election?
Why did Ballots continue to be sent out after the election was over and accepted when they were returned? MORE HERE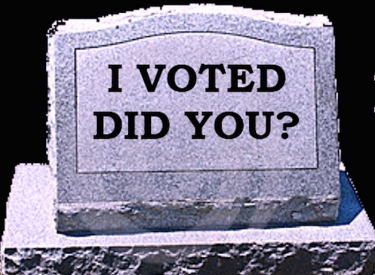 The Skagit County Board of Health now wants to levy fines against individuals and businesses (per Gov Inslee's unconstitutional proclamations) for not wearing masks and not social distancing. The local health department HAS ABSOLUTELY NO AUTHORITY TO DO THIS, it is unconstitutional and against the law. On Jan 20 at 10:30 AM there is a very important public hearing via Zoom that we can all attend to voice our feelings. More Info see link here.
Last night a riot was declared in Portland as a group of about 100 Antifa / BLM Anarchists rioted, smashed windows in businesses and threw firebombs at government buildings and at police. 'A gathering in downtown Portland has devolved into a riot,' Portland Police tweeted at 11:37 p.m. local time. 
Footage from the scene showed police moving in to break up the riot as firebombs were thrown in their direction. In a statement released in the early hours of January 1, the police said they became aware of a gathering at around 7:45 p.m., saying that the crowd soon became violent. 
'At least two Molotov cocktail-style firebombs were thrown, and large, commercial grade aerial fireworks were launched at the Federal Courthouse and the Justice Center,' the statement said.
'Some individuals tried to use tools to break into the Justice Center at 1120 Southwest 3rd Avenue, but were not successful,' it continued, before adding that officers had to be pulled from answering other emergency calls to respond to the Anarchists.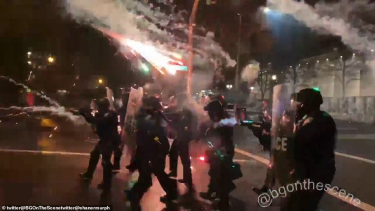 WHY HAVE THE CIA, FBI, DOJ, WASHINGTON POLITICIANS, MAINSTREAM MEDIA AND CHINA BEEN SO DESPERATE ON REMOVING DONALD TRUMP FROM OFFICE? Amazing Explanation of the DC Establishment -- What Happened To John Durham? VIDEO HERE
The World Economic Forum (WEF), through its corporate partnerships, has a plan to indoctrinate every citizen on its Great Reset agenda. According to the WEF, we must all live sustainable lives, with equality in all aspects of life, and that as a result, life will be much better for all. What isn't mentioned is that it will be corporations, elitists, and most importantly technocrats who will be making the decisions on exactly how this utopian world will work. Corporate propaganda and indoctrination have been prepping the common people on this for years, enough to the point where the masses have bought into this group think about sustainability. More about the Great Reset Here
A massive censoring effort by Big Tech Facebook, Twitter, YouTube, are now at unprecedented levels. The Democrat operative media has provided almost no coverage of the rulings on the Trump cases, or the multiple hearings that have taken place with dozens of witnesses. They have all but ignored President Trump's speech today where he laid out the facts of the irregularities, the elimination of signature matching, and postal requirements, as well as the extension of ballot deadlines and other rule changes for mail-in ballots. The fraud abounds and yet the establishment media and government types say and do nothing.
UPDATED COVID FACTS: Now Pneumonia, Influenza and Covid-19 related deaths are all being categorized as Covid-19 deaths. The new category is called PIC (info here).
Former Assistant HUD Secretary: COVID is a 'coup d'etat' — Elites are transforming America into technocracy: How government is using Covid-19, lockdown measures and fear to control the masses to Dramatically Centralize Economic and Political Control. Video here.
A WHO Dec 1 2020 Interim Guidance report says: At present there is only limited and inconsistent scientific evidence to support the effectiveness of masking of healthy people in the community to prevent infection with respiratory viruses, including SARS-CoV-2 (75). A large randomized community-based trial in which 4862 healthy participants were divided into a group wearing medical/surgical masks and a control group found NO difference in infection with SARS-CoV-2. Report here.
The death and illness due to lockdowns is exponentially higher than deaths due to Covid-19. Lockdowns and mask wearing are not effective, as seen by many scientific studies, common sense, and worldwide observation. Locking down entire communities was never before done in all of recorded human history, but it swept the globe in 2020. In addition to not stopping the transmission of a tiny respiratory virus that fortunately does not permanently harm the vast majority of people, lockdowns cause insurmountable negative health effects. These range from the worsening of chronic stable conditions, to missing new serious diagnoses, to missing necessary treatments, and very often death. And where lack of medical care and social isolation intersect, the tragedy of addiction, substance abuse, depression, trauma, and crime repeats itself in ever escalating numbers. The death and illness due to lockdowns is exponentially higher than deaths due to Covid-19. This is all the more tragic because most Covid19 deaths are at or exceed the average life expectancy but most of the death and illness due to lockdowns is in younger persons. MORE FROM AMERICAS FRONTLINE DOCTORS.HERE.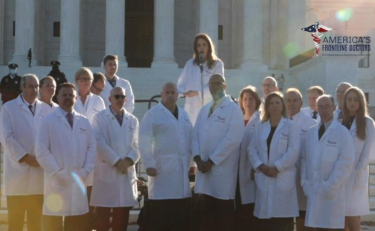 NO ONE CAN MAKE YOU WEAR A MASK OR "SOCIAL DISTANCE," it is your choice and your free will. Governor's Proclamations are NOT LAWS. Please get educated about your rights! See Thehealthyamerican.org. Video Here.
A forensic audit of Dominion Voting Systems machines and software in Michigan showed that they were designed to create fraud and influence election results: BOMBSHELL AUDIO BY ATTORNEY LIN WOOD HERE "We conclude that the Dominion Voting System is intentionally and purposefully designed with inherent errors to create systemic fraud and influence election results," Russell Ramsland Jr., co-founder of Allied Security Operations Group, said in a preliminary report.
"The system intentionally generates an enormously high number of ballot errors. The electronic ballots are then transferred for adjudication. The intentional errors lead to bulk adjudication of ballots with no oversight, no transparency, and no audit trail. This leads to voter or election fraud. Based on our study, we conclude that The Dominion Voting System should not be used in Michigan. We further conclude that the results of Antrim County should not have been certified," he added. Article here.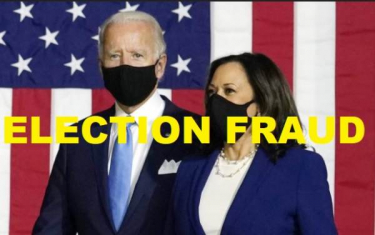 WSRP Chairman Heimlich released the following statement regarding videos showing illegal electioneering conducted by Lummi Native Votes, an organization associated with the Lummi Native American tribe in Whatcom County. 
"After reviewing these videos, it is clear that Lummi Native Votes participated in an illegal scheme to bribe tribal members to vote under the guise of a Get-Out-The-Vote campaign. Sadly, it appears that they are just one of many groups across the nation who have decided to flout the law in order to help Democratic candidates win. Voters should turn in their ballot because they want to participate in the electoral process, not because they they've been offered cash-value prizes, free food, and other swag. These clearly illegal tactics severely disrupt the confidence Washingtonians have in our election system."
During one video posted to Facebook, the Lummi Votes representative claims that the first 250 people to bring their ballot in to their event will get lunch, t-shirts, bandanas, etc. During another video, the representative says to the winner "you won $25 worth of gas. How cool, just for voting."
Shamelessly touting the partisan leanings behind the effort, the representative says in another video "if you have no clue on how to vote, always vote blue." This comes after a Washington Examiner article details a "Pro-Biden effort offered Native Americans $25-$500 Visa gift cards and jewelry to vote."
Dec 17 a nurse at CHI Memorial Hospital in Tennessee passed out on live television after receiving the Pfizer COVID-19 Vaccine. Nurse Manager Tiffany Dover was speaking during a press conference about the vaccines when she told reporters she was feeling a bit dizzy. Their PR stunt for the vaccine could not have possibly gone any worse (more here).
Before you submit to any vaccine you may want to watch this America's frontline Doctors Vaccine Info here And this video. 
IN CASE YOU WANT TO KNOW WHY PEOPLE ARE LEARY OF GOVERNMENTS' RESPONSE TO COVID-19, SEE IMPORTANT VIDEO'S HERE, HERE and HERE.
Last week The federal government, 46 states and the District of Columbia filed antitrust lawsuits against Facebook charging that the social media giant is unlawfully working to eliminate its competition. Also officials in Germany are looking into whether the company's controversial move to require Oculus users to connect to a Facebook account violates competition rules.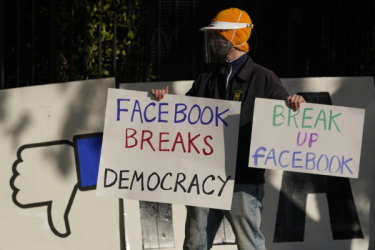 A Yakima appellate judge has ruled that the Washington state Department of Labor and Industries did NOT show sufficient evidence to fine a gym owner for alleged violations of coronavirus regulations in Yakima.
Anytime Fitness' owner Bradshaw Development Inc. was fined more than $9,000 in July and $29,000 in August after the department said the gym exposed its employees to COVID-19, The Yakima Herald-Republic reported.
Department officials claimed gym locations in Yakima, Selah and Union Gap operated in violation of the state's reopening plan when the county was in Phase 1 of the plan and gyms were not allowed to reopen.
Judge William R. Strange ruled in favor of the gym after it appealed the fines. Anytime Fitness attorney Scott Brumback said the ruling was a victory for owner Wes Bradshaw. "They fined him nearly $40,000," Brumback said. "They were trying to make an example of him, and he stood up to them."
THE FAKE NEWS AGAIN NEEDS TO BE CALLED OUT: Congressman-elect Luke Letlow (R-LA) passed away this week at the age of 41. It's very sad. He leaves behind a wife and two young children. Letlow had been recently diagnosed with Covid-19, all major news sources blamed the death on Covid-19, but it was a heart attack from an operation that killed him while he was at the hospital. The difference between dying with Covid and dying from Covid needs to be understood. We're seeing cases all across the country where people who were shot and killed, and people who in car accidents who are being listed as Covid deaths after discovering the victims had tested positive. 
I.T. Expert Gives Stunning Explanation Of How Georgia Audit Shows Link Between Voting Machines And China: Video
In case you missed it, NFL Super Bowl champion Burgess Owens is now a Republican Congressman. See a Great Prager U Candice Owens interview of Burgess Owens HERE
On Dec 12 there was a Huge Trump Rally in WA DC at Freedom Plaza and and on Jan 6 there will be a Massive WA DC Peaceful Protest "Stop The Steal Rally" where a million people are expected to attend! INFO HERE.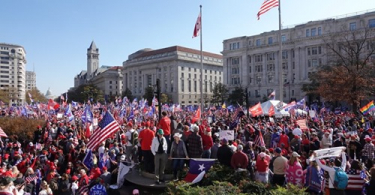 And on Dec 7 Trump spoke at another huge rally in Georgia -- Hear The Fight For Trump Chant Video Here
It is not just at Trump Political Rallies: It case you have any doubts as to the popularity of President Trump you may want to listen to the ovation he received last month at the sellout Army Navy annual football game here.
CONSTITUTIONAL LAW GROUP -- We are in a very dark time where many components of our government are actively working to destroy our rights under the pretense of a "global pandemic." We are seeing a barrage of unconstitutional "lockdowns," "Executive Orders," Rules, Mandates, etc. that flagrantly violate our Constitutionally protected rights. We are seeing fear and chaos spreading through our nation, and our freedoms and liberties are being threatened like never before. Many a patriotic American fought and died for these rights, and WE WILL NOT sit idly by and watch it happen!

We are pursuing lawful claims against multiple governors and other public servants in multiple states for acting under Color of Law. These states include California, Washington, and New Jersey. Executive Orders are NOT LAWS! NO American can be subjected to threats, intimidation, or punishment for NOT obeying an Executive Order. NO emergency power supersedes the Constitution!  MORE HERE constitutionallawgroup.us
The ratings keep getting worse and worse for traitor cable network Fox News. The one time undisputed leaders of cable news ratings is now dead last, not even able to average more than than 1.75 million viewers for the day. This puts Fox News behind the clowns at CNN AND MSNBC, for Monday, December 14, 2020. 
In Colorado, They're Counting Gun Shot Fatalities as COVID Deaths. A coroner in Colorado is sounding the alarm over how deaths in her county are being counted and attributed to Wuhan coronavirus. "The coroner, Brenda Bock, says two of their five deaths related to COVID-19 were people who died of gunshot wounds," CBS News Denver reports. "Bock says because they tested positive for COVID-19 within the past 30 days, they were classified as 'deaths among cases.'" More here.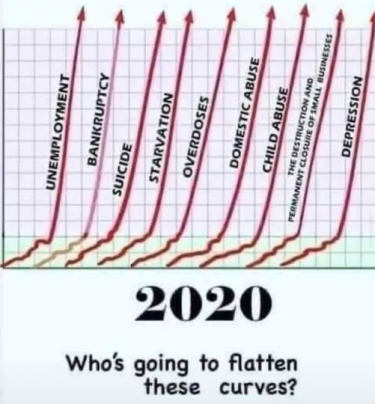 The Skagit County Board of Health now wants to levy fines against individuals and businesses from $50 - $1,000 Per Gov Inslee's proclamations for not wearing masks and not social distancing. The local health department HAS ABSOLUTELY NO AUTHORITY TO DO THIS, it is unconstitutional and against the law. On Jan 20 at 10:30 AM there is a very important public hearing via Zoom that we can all attend to voice our feelings. More Info see link here:
Guided by the meticulous work of Dr. David E. Martin, Plandemic II: Indoctrination, tracks a three decade-long money trail that leads directly to the key players behind the Covid-19 pandemic. Plandemic II connects the dots between all forms of media, the medical industry, politics and the financial industry to unmask the major conflicts of interests with the decision makers that are currently managing this crisis. For more information, please visit plandemicseries.com -- Video here
President Trump will be holding a rally in Dalton, Georgia, on January 4, the night before the state's crucial Senate runoff election. Republicans need to hold onto at least one of those Senate seats to keep the Senate majority. View the live event here.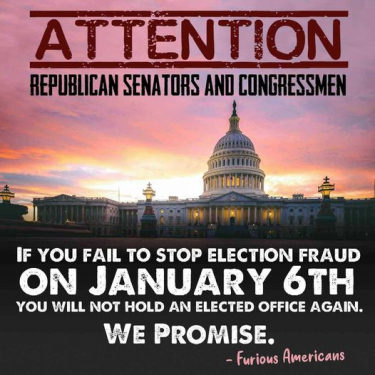 Jan 6, 2021 at noon there will be a IN SOLIDARITY WITH Million MAGA March DC PROTEST 112th Park & Ride, Everett (Map).
The Skagit County Young Republican Group is up and running! For more information about the local chapter please contact SCYR Chairman Aaron Milas or SCYP Vice Chair Elizabeth Waldrin at skagityoungrepublicans@gmail.com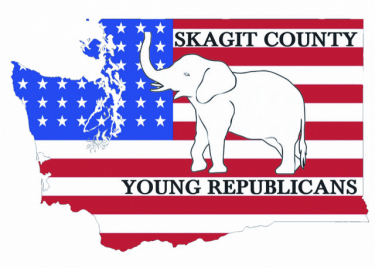 There is a "March For Life" event on January 29th, starts at noon at the steps of the state capital in Olympia. Event speakers will be those who hold Pro-life dear to their hearts and have stories to tell. More Info: Contact Aaron Milas at skagityoungrepublicans@gmail.com
The Skagit County Republican Women's Group meets Tuesday January 5, 2021. For more info contact Judy Billings at judybillings90@gmail.com.
Our next SCRP Central Committee meeting will be Saturday January 9, 2021 at noon. It is our re-organization meeting where we will be voting for officers of the SCRP for next two years. For more info call (360) 820-1700 or email skagitrepublicans@yahoo.com.
HAPPY NEW YEAR -- Respect and Blessings,
Bill Bruch, SCRP Chairman
Share This Post...