You are invited this Saturday, February 8th (from 5 - 7 pm) to the Elect Bill Bruch for State House Campaign Kickoff.  The event will be held at the Burlington Corporate Air Center 15452 Airport Dr. (MAP).  Catered food, drinks and live music provided by "Collusion" featuring Dmitriy Chebotarev, Willie Doddridge and Mark Doddridge.  Special Guests include: LD 42 State House Representative Luanne Van Wervin and LD 10 State Senator Ron Muzzall.  Other surprises on tap, don't miss this fun event!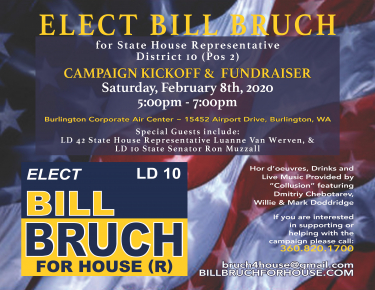 "The campaign is going well, however one-party state control continues to destroy and undermine the stability of Washington, and things will only get worse if we don't regain seats in the legislature to fight the current majority party's big government tax and spend agenda.  As a State Representative I will be working hard for the best interests of the people of the 10th Legislative District, our three counties, and the state.  Electing me will help to bring needed tax relief, transparency and accountability back to our communities."                   Bill Bruch
For more information please visit www.billbruchforhouse.com.
Share This Post...